Kia pro_cee'd BTCS development completed. The stunning looking race-car hits the test track for the first time.
Taken during the first practice sessions over the last weekend, these exclusive images prove that works and development on Kia's BTCS pro_cee'd race-car have been finalized.
The result of a hard and dedicated work, conducted by Chad Racing engineers, is this absolutely stunning Kia race car, which took engineers almost six months to develop!
During this past weekend, the pro_cee'd BTCS has hit the race-track for the first time and according to Chad Racing staff, lap-times recorded during the first practice sessions have been more than encouraging, with both pro_cee'd drivers setting very competitive lap-times.
UK based Chad Racing, which has teamed up with Kia Motors Belgium to participate in the 2009 Belgium Touring Car Series -BTCS has been developing the race car since September 2008 when the final papers between Kia and Chad have been signed.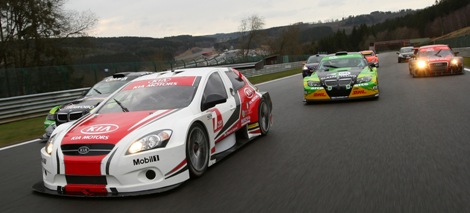 The BTCS pro_cee'd is a light-weight sports car that weights no more than 950 kilograms and features a highly stressed, rear-mounted, racing engine with 2.0L displacement and 440 horsepower. The engine has been tuned by the company called Mountune, while the spaceframe has been designed by Pescarolo Le Mans team.
During the 2009 BTCS season, Chad Racing will manage two BTCS pro_cee'd race cars  with numbers 7 and 17 (small 1 and big 7) advertising Kia's famous 7-year warranty.
One of the cars will be driven by Raf Vanthoor and Koen Wouters who happens to be famous Belgian singer and songwriter, TV personality and also a race car driver, with racing experiences from Belgian Belcar racing series where he was driving a Porsche. He also participated in DAKAR rally for several times.
The other car will be driven by Phillip Steveny, who's the owner of a KIA dealership in Belgium and Ian Dockerill from England. Both of them drove for the Chad team already in the last season.
The 2009 BTCS (Belgium Touring Car Series) season kicks off in early April with the opening round coming in at the very famous Spa-Francorchamps race track (April 10-12)
Let's hope that this very unusual combination of English racing know-how applied to the Korean car and assigned for Belgium racing series will bring us some great results and hopefully, encourage Kia Motors to finally join some other racing series in the future as well!