There is a lot to love in the existing and upcoming Kia model line-up, with much of the buzz taking place in the US market.
So far this year, Kia Motors America has already unveiled the all-new 2014 Soul crossover, updated Optima mid-size sedan, redesigned Forte Koup and Forte 5-door hatchback.
Just recently, Kia also released full details about the Sedona MPV, which is back to the 2014 model range after skipping the 2013 model year completely.
Let's take a quick look at the Kia vehicles (shown as cartoons – for fun) that eager customers will be able to get their hands on by the end of this year and in 2014:
– The car that helped bolster the Kia brand has been given a cool new refresh and is ready for the road. Hamsters not included!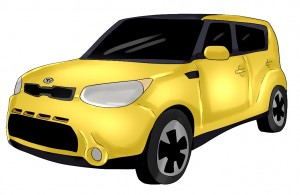 2. Kia Forte (2014) Sedan, 2-Door Koup, 5-Door Hatchback
– Not content with just one version, Kia will also be releasing the 2-door Forte Koup and 5-door Forte hatchback versions later in the year. All plan to be as beautiful as the robot that appears in the Forte TV commercial.
3. Kia Optima (2014) Mid-Size Sedan
The ever popular mid-size sedan has received a fresh new look for the 2014 model year, and is also available in a hybrid model.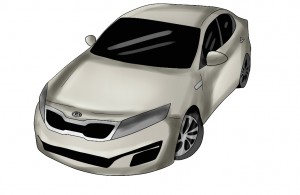 4. Kia Rio (2013) Sedan, 5-Door Hatchback
What it lacks in size, this sub-compact beauty makes up in style and performance. The Rio is available as a 5-door hatchback or 4-door sedan.
5. Kia Sportage (2013)

Being Kia's longest-running nameplate in the USA, the eye-catching Sportage CUV delivers aggressive styling and hard-to-find combination of fun-to-drive-performance and impressive fuel economy.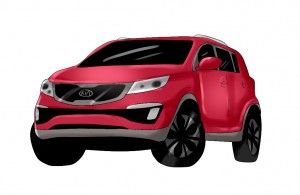 6. Kia Sorento (2014)

Yet another in the Kia line-up that gets a bold new look for the 2014 year, the Kia Sorento CUV is ready to handle anything you can throw at it.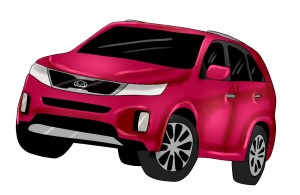 7. Kia Sedona Minivan (2014)
The minivan has been missing for a year, but it's back and better than ever for the 2014 model line-up.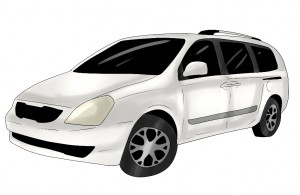 8. Kia Cadenza (2014)
This luxury sedan shows off a distinct European design influence, whilst also being the most technologically advanced car Kia has released in the US. It is expected in showrooms in the second quarter of this year.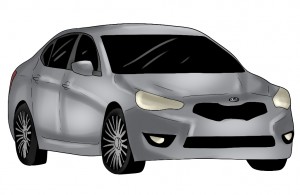 9. Kia Rondo MPV (Not Available Yet)

A brand-new Kia model that is not available in the USA at this point, however, we believe Kia will launch it in the States sometime by the end of this year. The all-new 2014 Kia Rondo is already on sale in Canada!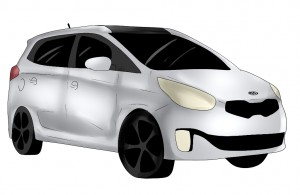 Have a huge interest in Kia Motors? Find latest Kia news here…