Find latest news and rumours about the 2016 Borrego SUV, Kia's 7-seat all-wheel-drive vehicle.
Known also as Mohave in some markets worldwide, the Borrego's no longer on sale in the USA and Canada.
The vehicle continues to be offered in some Asian markets, as well as in the Middle East.
For the 2016, Kia has given the Borrego 7-seat SUV a subtle makeover with some minor styling tweaks and technical improvements.
2016 Kia Borrego release date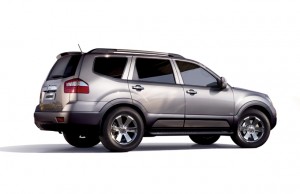 As mentioned above, the Borrego has been discontinued in the North American market several years ago and Kia has no plans to re-launch the vehicle here again.
Kia hasn't let us know about the reasons why they have discontinued the model in the USA, but that may be from the poor monthly sales figures.
The Borrego wasn't a big seller for the brand selling approximately 1,000 units per month.
Replacement model: Sorento SUV or Sedona MPV
Those looking for a large 7-seat SUV that can haul stuff around can take a look at a slightly smaller, but more modern Kia Sorento SUV.
It offers comfy ride, great styling and highly advanced AWD system.
The model has also been updated for the 2015 model year, adding even more value to the line-up.
If you're interested to learn more about this hot-looking SUV, you might wanna read a review of the 2015 Sorento SX-L (the top of the range model).
The other option in the Kia range is the Sedona minivan, which also offers seating for 7 people, but has no AWD system.
The Sedona has been completely redesigned last year and now boasts up-to-date styling and powertrain technology.