Kia tops US car quality rankings!
The people who have made a habit of driving Kia cars are well aware of the quality of the brand, but they still have a tough time convincing other drivers of that fact.
They are routinely looked down upon by luxury car owners, but the pecking order on the totem pole has changed, and Kia is now sitting proudly on top.
The J.D Power and Associates Initial Quality Study is something that all car owners pay attention to, as it is an unbiased survey that rates brands based on the ownership experience during the first 90 days.
It is a survey that has been going on for 27 years now, and every year has seen a luxury brand come out on top.
That is, until this year's results were released and Kia became the first non-luxury brand to land at the top of the list.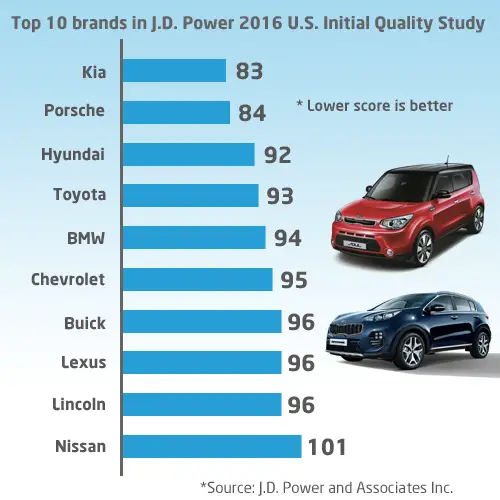 A total of 33 brands were part of the study, with Kia owners reporting 83 problems per 100 cars, which is well below the average of 105 posted by the group as a whole.
That impressive number was good enough to take Kia from their second place finish last year to top this time around.
Needless to say, Kia officials are over the moon with the results of the survey, with chief operating officer for Kia Motors America, Michael Sprague, saying that it's proof positive that Kia now has to be viewed as a world-class automaker.
This has been a long time coming, and it's well deserved for a company that has worked so hard to create quality vehicles while they relentlessly built their brand.
Hyundai finishes 3rd, just behind Porsche
It was also a good year for sister company Hyundai, as they finished in 3rd place in the study, just behind Porsche, who won it last year.
The top 5 was rounded out by Toyota and BMW. Generally speaking, it was a good year all round, as 21 of the 33 brands in the survey improved upon their scores from last year.
It was also a good year for US-made vehicles, as the big 3 out of Detroit averaged fewer problems per 100 than their import competitors.
That is only the third time in the history of the survey that this has happened. Jeep and Chrysler ended up being the most improved, with each of those brands getting 28 fewer problems than they did in last year's survey.
The reason why doing well in this survey is such a big deal is because it generally means that owners will stick with a brand if they are happy with the ownership experience.
People who didn't find a problem in the first 90 days are 54% more likely to stick with the brand than those who did have an issue.
Kia is now looking down at the other 32 brands in the list, and they are a long way above the brands at the bottom of the pack, which were Volvo, Fiat, and Mercedes-Benz.
With all of this in mind, the net time some uppity luxury car driver laughs at your vehicle of choice, point to your Kia label, and then point them in the direction of this study. We think you'll find that they will be very quickly silenced.