The 2016 Kia Mohave SUV, known as the Absolute Mohave, has been released in Korea, and it is essentially a facelift for the vehicle that was once sold as the Borrego SUV in North America.
Some of the changes made to the Kia Mohave, which was first released back in 2008, include revised bumpers, HID headlights, and LED taillights.
The Mohave interior comes with some upgrades to the materials used, as well as upgraded convenience and safety features.
Included among the features are things like forward collision warning, land keep assist, and a 4-camera system that delivers a bird's-eye view.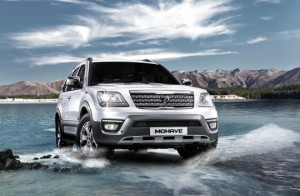 The 2016 Kia Mohave facelift also adds 18-inch wheels that comes with large 265/60 tires.
The Korean version of the Kia website shows the Mohave in 5- and 7-seat variants, with each of the models available in 2- and 4-wheel drive. There are 5 different exterior colors available, as well as two interior trim combinations.
Kia Mohave gains new 3,0L diesel engine
Under the hood of the new Mohave SUV is a 3.0L V6 CRDI diesel engine that delivers a nice jolt of power, as well as improved fuel economy.
The power output checks in at 260-hp and 256 lb.-ft. of torque.
The engine has received a little bit of an upgrade for this model year so that it can adhere to strict Euro 6 emission standards.
Also part of the upgraded powertrain set-up is an all-new 8-speed automatic transmission that delivers the goods at low-end torque.
Kia Mohave in USA
Kia Mohave has once been on sale in the U.S. market, known as the Borrego.
The vehicle was axed from the Kia line up roughly two years after it hit the market (slow sales due to the skyrocketing gas prices).
At this point, there are no plans to launch the 2016 Mohave SUV again in US, however, the automaker may re-enter the large SUV segment vehicle with the new Telluride SUV.