New Kia small crossover teased ahead of its official unveiling next month.
This summer, Kia plans on unveiling a new small crossover vehicle. They have given us a nice little tease, though, in the form of 2 official sketches.
The one thing that really stands out in these sketches is the new version of Kia's iconic tiger nose grille, which beautifully merges with LED headlights with 3D elements on either side. The front bumper sits below the grille and has three air intakes, similar to those that we see on the Sportage, although a little more sharply defined.
Kia has made a habit of using a full-width light bar on several different models, but the rear image of the new SUV shows that will not be the case here. In its place is a chrome strip with an intersecting Kia logo, as well as C-shaped lighting units on either side.
There are, as of yet, no official images of the proposed production model, but what we can see from the concept is that the vehicle will feature bold wheel arch cladding, a bold shoulder line, and a slightly upward tilting window line that is somewhat similar to what is seen on the VW T-Roc.
From what we can see, Kia are looking to deliver a small SUV designed to stand out in any setting. Besides the robust design and sporty styling, you can bet that this vehicle will be packed with the very best features and technologies available, many of which will be suited to a younger crowd.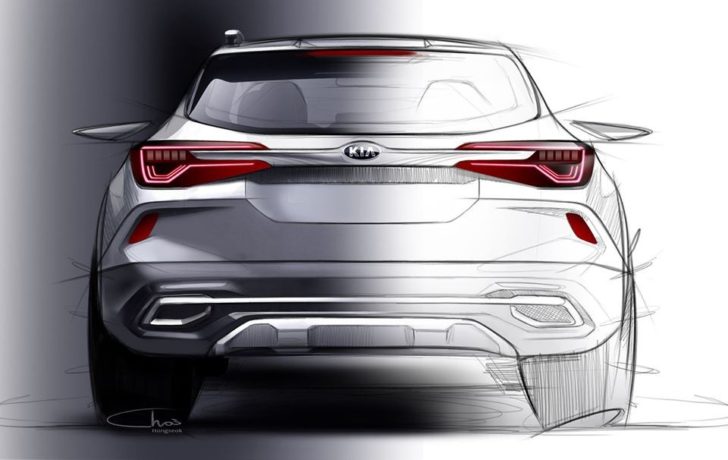 To be named Kia Tusker?
Official: Kia's new small SUV to be named Seltos (not Tusker)!
No official name for this model has been announced, with its previous appearances at auto shows being under the SP concept label. That will be ditched when it comes time for production, with the rumor being that the North American version of the new small SUV will go by the name of the Kia Tusker.
Release Date & on-sale date
The Kia Tusker is expected to arrive this summer as a 2020 model. This will be a worldwide release, with one notable exception. It is believed that the Tusker small SUV will not be landing in Europe at this time.
The initial release will see the 2020 Kia Tusker on sale in South Korea and India, followed closely by releases in United States, China and Australia.
AWD & engines
As far as the platform goes, the Kia Tusker will ride on the same one that underpins the Hyundai Creta small SUV. This set-up means that the Tusker could be configured to AWD, but there is no word on that yet.
It is believed that the new Kia Tusker will initially be offered with a pair of different engine options. The first of those is a 1.4-liter turbo gas engine, as well as a 2.0-liter naturally aspirated unit. The latter seems the most obvious choice for the U.S., with that unit mated to a 7-speed dual-clutch automatic transmission.
2020 Kia Tusker price
Given that the Tusker will be considered an entry-level SUV, you can expect the starting price to be around $16,000 or perhaps even a little less. It goes without saying that the price will be more for higher trim levels with more features. Full pricing and specs of the 2020 Kia Tusker will be announced closer to its official U.S. on sale date.