The SEMA Motor Show is now well under way in Las Vegas, and a lot of attention is being directed to the Kia display.
The Koreans have no less than 6 custom vehicles to show off, with each of them delivering something a little special to show visitors.
The common bond that ties them all together is the All-American road trip, with a number of different regional landscapes used as inspiration.
Let's take a look.
A1A Kia Optima
The A1A Optima is named after the 300-mile long stretch of road that cuts a swath through the heart of Florida.
This version of the 2016 Kia Optima is all about embracing the sunshine and having a style that would be at home in any part of the state.
The A1A Optima is a stunning roadster that features the trademark sliced top and shortened windshield Americans seem to love.
This is no hasty makeover, though, as a lot of work has been done by the pros at Lux Motorwerks to ensure that the A1A has some real concept car touches.
Hidden steel tubes created a rigid body structure, while back doors that open on rear-mounted hinges are all concept.
The turquoise exterior paint is a color pulled from the South Beach pastel palette, and the entire look is finished off by a cool set of 20-in. HRE S104 wheels and Tiarra Luxury upper and lower grilles.
The interior is pure luxury, with sporty bucket seats covered in butter-soft cream and titanium leather. There are also bucket seats in back, while the driver has access to a truly unique center console.
This is a car that growls, thanks to the addition of a high-performance exhaust and a 245-horsepower turbo 4-cylinder engine.
PacWest Adventure Kia Sorento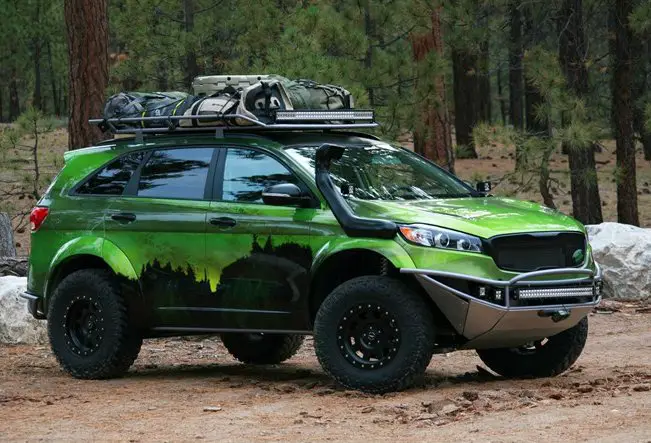 Seattle and Portland have become synonymous with music, craft beer, and thousands of square miles of stunning forest.
This is a part of the country just waiting to be explored, and the PacWest Adventure Sorento is the vehicle to do it in.
LGE-CTS Motorsports have their fingerprints all over this custom model.
One of the most noticeable things is the exterior paint job, as it employs a multi-layer painting process that gives the vehicle a chameleon quality that will help it blend in with its natural surroundings.
The Sorento comes with matte black accents to add a little toughness, and twin LED low-profile light bars to help it find its way through less hospitable territory.
A new undercarriage assembly helps the vehicle ride higher, making it easier to travel rough terrain.
The wheels and tires have been upgraded to deliver off-road performance, and skid plates have been added to the bumpers to add an extra level of protection. Even when the road gets rough, the passengers inside will ride in comfort.
The seats come complete with thigh supports, and the headrests are embroidered with the Kia logo.
Photo Safari Kia Sedona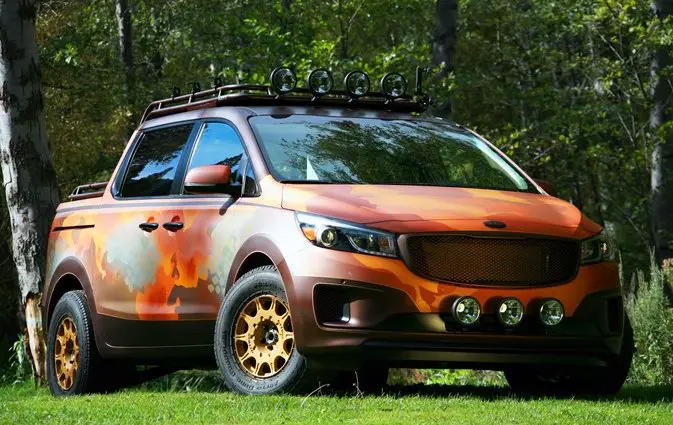 We are at the time of year where the colors really start to change in the Northeast, which is why the Photo Safari Sedona is covered in glorious red, yellow, and orange colors.
Once again, it was LGE-CTS Motorsports who were responsible for this custom makeover. They took the family-friendly 8-passenger Sedona and turned it into a 2-person machine designed to capture images.
This is a vehicle that is a dream come true for nature photographers hoping to snap pictures and edit on the go.
Professional photographers were consulted through every step of the design, as the vehicle was built to house cameras, boom, jigs, and other equipment.
It was also designed in a way that would allow brave photographers to strap into a safety harness in order to get out and snap those otherwise impossible shots.
Creative lighting was used to turn the Photo Safari Sedona into a mobile camera unit that could be used day or night.
There is a lot to tell about this custom Sedona, and we will do just that in another article.
Kia Forte Koup Mud Bogger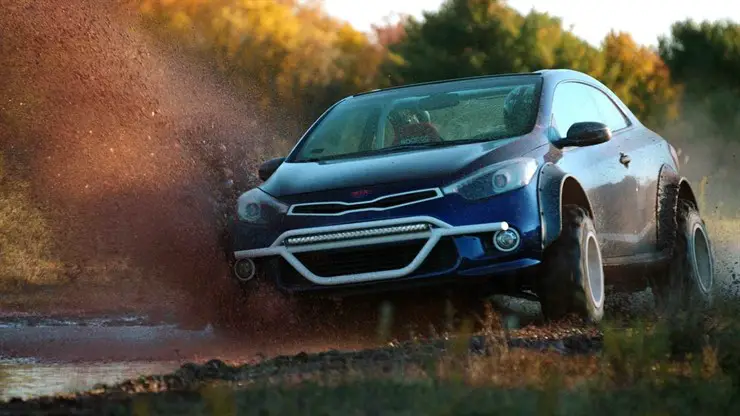 Mud bogging is a sport that is popular in the southern states, where car owners love to take their rides and get them dirty.
The Kia Forte Koup Mud Bogger may look shiny and new on the SEMA floor, but this is a vehicle built to be caked in dirt. Kia teamed up with Lux Motorwerks for this creation, with fun very much at the forefront of the design.
The red, white, and blue color scheme is as American as apple pie, but those good looks are just a cover for a vehicle made to go off road.
The suspension has been ramped up, and the huge 28-inch tires make it easy for this vehicle to go anywhere. The road ahead will always be clear, thanks to the addition of a Rigid LED light bar.
The interior has been stripped bare to make way for a roll cage and other sporty touches that are designed to make off-roading both safe and comfortable.
Ballast Point Kia Sedona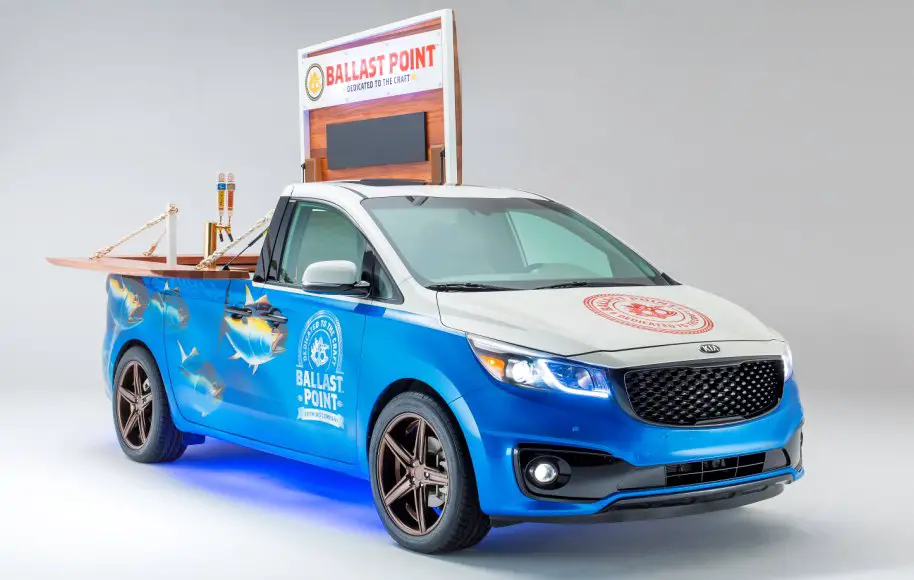 This vehicle was shown off at SEMA last year, and it was such a big hit that it's making a return.
Beer lovers will get a kick out of the Sedona that draws it inspiration from San Diego craft brewing company Ballast Point. Just like the brewer, the Sedona has a strictly nautical theme.
The highlight of this vehicle is the flip-top roof that can be folded down into a fully functional bar.
The cabin has been shut off to everyone but the bartender, as the sliding doors have been permanently welded shut. The rear shell can be removed allow visitors access to a delicious cold beer from the tailgate.
There is no space inside for passengers, as that area has been torn out to make way for a beer tap set-up and cooling coils that ensure a delicious pour every single time.
Kia Soul Trail'ster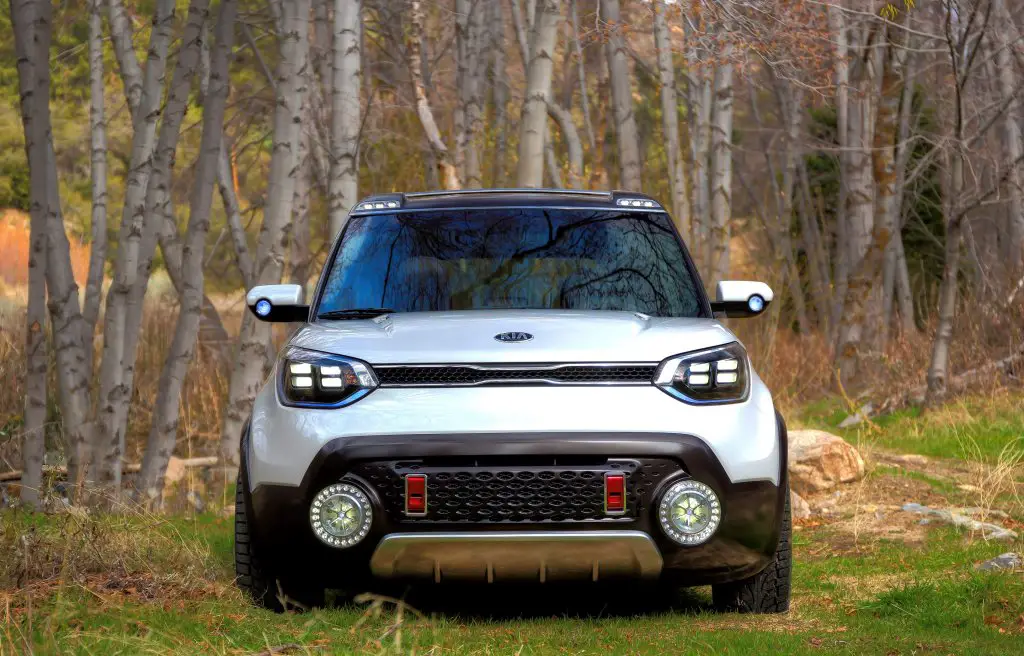 The Soul is a vehicle seeming design for custom builds, and the Trail'ster proves just how good those can be.
This is a car intent on breaking free from the urban sprawl and heading out into the country. The Trail'ster is a lightweight version of the Soul, which allows it to take on more gear without getting bogged down in rougher terrain.
An axle-mounted electric all-wheel drive system ensures that this vehicle will make it up to the highest elevations with little effort.
The Polar Pearl Snowdrift/Terra Bronze Metallic exterior paint job recreates the snow and mud that the Trail'ster will be asked to traverse. There really is no better vehicle for getting outdoors and having fun.