The all-electric Honda E looks cute, but can't match the 2020 Kia Soul EV.
After making a decision on the official name of Honda's first ever "mass" produced electric vehicle, the Japanese automaker announced that they have also enabled European consumers to pre-order the vehicle.
Called Honda E, the small electric vehicle will first go on sale in 4 European countries, the UK, Germany, France and Norway.
In order to make a reservation, consumers need to pay a reservation fee of 800, which is fully refundable!
According to Honda, the model E has gained a lot of attention among European consumers with 25,000 people expressing an interest in buying it.
"The Honda e in concept form has received an overwhelming response and with over 25,000 registrations of interest across Europe, customers now have the opportunity to secure priority status to order the model," said in a statement Honda Europe's manager Jean-Marc Streng.
Honda E release date
With Honda now taking preorders for the E electric vehicle, we have learned that consumers should expect delivery from spring 2020.
Driving range of 2020 Honda E
As far as specifications go, Honda have yet to announce the full specs, however, sources close to the automaker have revealed that the Honda E will have a driving range of 200 km (124 miles), while 80 percent recharge time should take no longer than 30 minutes (when using a fast charging system).
Honda E color options
The automaker have already revealed that the vehicle will be available in 5 different exterior colors. Those include the Crystal Black Pearl, Platinum White Metallic, Charge Yellow (as seen at the picture above) Crystal Blue Metallic and Modern Steel Metallic.
Can it compete against Kia Soul EV?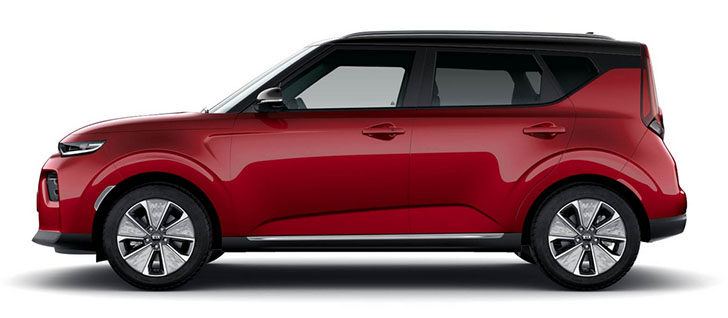 By the time Honda E gets released in Europe there will be a couple of highly potent competitors already available. Those include the new VW I.D. 3, Peugeot 208 e, Skoda e-Citigo as well as the Kia Soul electric vehicle.
Those wondering how Honda E may compete against the Soul EV, let us make it clear that those two cars are not in the same category. Kia Soul EV is a compact crossover while the Honda E is a small city car. There is quite a significant difference between the two models so we do not see it as direct competitors.
| | | |
| --- | --- | --- |
| Specs | Honda E | Kia Soul EV |
| | | |
| Battery | * 30 kWh | 64 kWh |
| Range | * 200 km | 452 km |
| Configuration | * RWD | FWD |
| Length | * 3895 mm | 4195 mm |
| Width | * 1750 mm | 1800 mm |
| Height | * 1495 mm | 1600 mm |
| Wheelbase | * 2500 mm | 2600 mm |
| Weight | * 1400 kg | 1,682 kg |
* = estimated value, based on the Honda E prototype!
The table above features specs and dimensions which confirm that the two vehicles can not be directly compared. If you insist, though, it is obvious that Honda E is no match to the all-electric Soul (in any category).
Buy Honda E or Soul EV?
If you're specifically looking for a small city car and 200 km of range meets your requirements, the 2020 Honda E is the vehicle for you.
However, if you're looking for something bigger and more capable than a small electric city car, you should definitely go with the Soul EV. With the estimated driving range of up to 452 kilometers and 7-year warranty, it is one of the best affordable electric vehicles currently on sale in Europe.
Honda E coming to U.S.?
There are no reports on the Honda E electric car coming to the United States. Considering its small size chances are slim to none in our humble opinion.