E-GMP electric vehicle platform will have Kia & Hyundai leading the charge in the all-electric vehicle era.
The all-new dedicated battery electric vehicle (BEV) platform has been officially unveiled by the Hyundai Motor Group.
Moving forward, Hyundai, Kia, and Genesis will use the new platform, which received an online reveal at an event called "E-GMP Digital Discovery," on all their upcoming electric vehicles, both in the US and globally.
The platform will begin to show up in next-generation Kia models starting in 2021 and 2022. It will be able to handle all kinds of different vehicles, including sedans, SUVs, crossovers, and even high-performance electric cars.
The E-GMP platform is exclusively for battery-powered electric vehicles and delivers benefits not found in other platforms currently used by the Hyundai Group. Those other platforms are all for internal combustion engine models.
Among the new platform's many benefits are a more powerful driving performance, increased development flexibility, better safety features, more passenger and cargo space, and an improved driving range.
At first look, the new platform has a lot going for it and is expected to be extremely competitive. Let's dig deeper and talk about 8 important details about the new Kia E-GMP platform.
1. Kia E-GMP specs
Range of more than 311 miles (500+ kilometers) on a single charge under the WLTP cycle
Extreme sports car acceleration with range-topping models' 0-100 km/h (62 mph) in less than 3.5 seconds
Max speed of up to 260 km/h (162 mph)
New high-speed electric motor (up to 20,000 RPMs)
80% recharge possible in 18 minutes at a 350 kW (800 V) DC fast charger
Bi-directional charging available
Rear-wheel drive or optional all-wheel-drive
2. Extremely quick charging
With 800V charging capability, the E-GMP platform comes equipped with industry-leading supercharging capabilities.
To put that in numbers that are easier to understand, the new Kia E-GMP platform can be charged to 80% in just 18 minutes. It can also add roughly 100 kilometers (62 miles) of driving range in only five minutes.
The majority of EV models today allow one-way charging only. The E-GMP based charging system is a good deal more flexible, as it also enables bi-directional charging!
Without the need for additional components, energy can be discharged from the vehicle battery. What that means is that that the Kia charging system can operate other 110/220V electrical machinery, as well as being able to charge other EVs.
3. Upcoming all-electric vehicles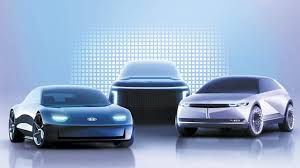 All told, the E-GMP will appear in 23 upcoming BEV models from the Hyundai Motor Group, including 11 dedicated BEV models.
The goal is to sell over 1 million models globally by 2025. Hyundai recently introduced the IONIQ EV brand, with three dedicated EVs to come under that nameplate. The IONIQ 5, 6, and 7 will arrive by 2024.
As part of the Hyundai Motor Group, Kia is also committed to the all-electric future under their Plan S strategy. In the next couple of years, Kia has plans to release seven dedicated EV models.
4. RWD & AWD drivetrain
There are a pair of different drive set-ups available on the new E-GMP platform. When the new models are released, drivers will have the option of a rear-wheel-drive (RWD) or all-wheel-drive (AWD) set-up.
The models that come with AWD can have an additional electric motor, making it one in front and back. The AWD set-up will also come with an EV transmission disconnector, which controls the connection between the front wheels and the additional motor. It will also allow the driver to switch between AWD and FWD modes to adjust to the current road conditions.
5. Maximized interior space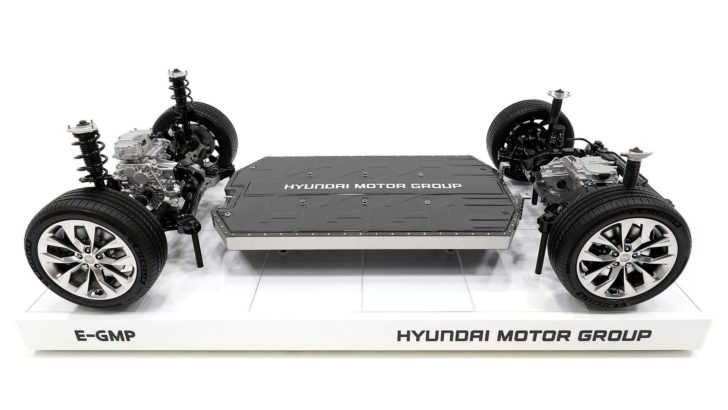 The E-GMP platform comes with a long wheelbase, a slim cockpit module, and short overhangs in front and back, all of which allows for more interior space.
The cabin comes with a flat floor, as the battery sits beneath the cabin. The battery's positioning means that passengers have more legroom and more control over the front and rear seat arrangements.
6. Efficient electrification system
A Powerful motor, EV transmission, and inverter are the power electric system components on the E-GMP platform. All three elements are put together in a single compact module.
The set-up allows for outstanding performance, with the motor's maximum speed raised to about 70% more than existing motors. The motor is smaller than most yet can still deliver similar performance while also being more efficient in space and height.
7. Strong performance
The E-GMP platform delivers a driving range of about 300 miles and is also suitable for use in high-performance models.
While revealing the new platform's range, it was also announced that EVs riding on the platform would have an acceleration rate of zero to 62 MPH in less than 3.5 seconds, not to mention a top speed of 260 MPH. Those numbers put it on par with the likes of Ferrari, Porsche, and Lamborghini.
8. Genesis EV
The official press release announced that the new platform would be for Kia and Hyundai models, but we also know that the E-GMP will also appear in Genesis luxury models.
Genesis has an all-electric compact crossover, codenamed EW, currently in development. That model is scheduled for release in late 2021. The platform will also be used in upcoming Genesis EV models, some of which will fall into the high-performance category.