Two new vehicles to be put on display at the Kia Motors' booth in Geneva.
We have some important information to share regarding what Kia will be displaying at the upcoming Geneva Motor Show.
The event kicks off on March 7. and the Korean carmaker will have not just one, but two new models to show off.
The first will be a production-ready version of the Ceed SUV, (to be called the Xceed), while the other will be an all-electric concept vehicle
Production-ready Kia Xceed SUV
The teaser image above provides us the early look at the brand-new Kia Xceed, which will fall into the compact crossover category, slotting in-between the smaller Stonic and the larger Sportage crossover vehicles.
The vehicle at the teaser shot features a relatively aggressive exterior design with wide wheel arches, oversized wheels, and a sloping roofline. It is worth noting that these kinds of car renderings tend to be a little more dramatic.
Spy photos, which have been slowly trickling out over the past couple of months, prove this to be true, as the production-ready Kia Xceed has more in common with the regular Ceed 5-door than the design sketch above.
There are some differences, though, such as the redesigned bumpers, plastic cladding and skid plates, revised signature grille and increased ground clearance.
In terms of powertrain technology, the upcoming ceed SUV is expected to adopt an entire engine line-up from the Ceed 5-door sibling, while rumors suggest that it may also offer a plug-in hybrid (PHEV) drivetrain from the Niro PHEV.
As for all the other details, we will get to see them all once the Geneva Motor Show begins next month.
Kia electric car concept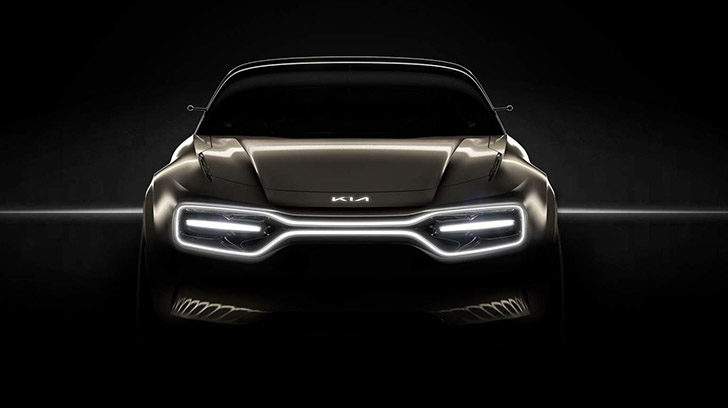 The other vehicle to get the official unveiling in Geneva is the all-electric concept vehicle about which very little is known.
Earlier today, Kia released the first official teaser image, which shows the vehicle to perhaps be a coupe style model, although whether it's a 2- or 4-door is still unclear.
Some styling elements that can be seen in the teaser image are LED headlights, rearview cameras where wing mirrors usually reside, flared wheel arches, and more.
This model is about more than just looks said Vice President of Design for Kia Motors Europe, Gregory Guillaume. He believes that an electric model should be able to give drivers the same sort of pulse racing thrill that they get from driving a gas-powered cars.
That information makes us very excited to see what this concept model is all about.