Kia Motors Mexico was officially launched last week at a ceremony held by the Kia Motors Corporation in Mexico City.
Those in attendance included industry leaders, government officials, and the media, all of whom were invited to be part of Kia's latest expansion in the global market.
There were indeed some major VIP's in attendance, including the Governor of the State of Nuevo León, Rodrigo Medina de la Cruz; Investment Director of ProMexico, Juan Pablo de Negris; and the South Korean Ambassador to Mexico, Beeho Chun.
Kia used the event to reveal final details of their Mexican expansion.
21 Kia dealerships In Mexico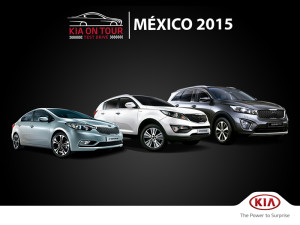 The plan is to have 21 Kia dealerships operating in 10 major Mexican markets, with a launch date of July 1, 2015.
4 Kia models on sale
To kick things off, there will be three import models made available to the Mexican consumers.
These will be the Forte sedan, the Sportage compact SUV, and the Sorento midsize CUV. The all-new Optima sedan is expected to join that trio in November.
7-year / 150,000 mile warranty
Kia also revealed that they will be providing an industry leading 7-year/150,000 mile manufacturer's warranty on all vehicles sold in Mexico.
26 More dealer stores upcoming
Expansion of the dealer network will continue after the initial openings, with 26 additional dealerships expected to be in place by January 2016, and a total of 65 dealerships in operation by 2017.
Each of the new Mexican dealerships will have a signature "Red Cube" space identity.
Kia Mexico manufacturing plant details
Kia is drawing ever closer to the completion of their new manufacturing plant near Monterrey.
The $1 billion facility is about 50% done now, and should be ready to begin mass production by the middle of 2016.
The ground breaking at the new facility took place last October, and the finishing touches are expected to be completed by December of this year.
It is expected that annual production at the plant will hit 300,000 units, but it will undergo a 5-month pilot production period to ensure that quality control is fully in place before consumer models start rolling out.
Forte + unnamed compact car to be produced
The first model to be produced at the new plant will be the Forte sedan. Other compact models, which are yet to be confirmed, will be added to the production schedule soon after.
The vehicles made there will serve the local market, but will also be shipped out to other locations in the US and Latin America.
Once production begins, Kia will see their global manufacturing capacity hit the 3.37 million mark.
The opening of the plant will deliver a major boost to the local economy, with 3,000 expected to be hired at the production plant, and a further 7,000 job expected to be created by supplier firms through 2017.