Kia models with Nightfall Edition trim level / package.
People have a definite preference when it comes to vehicle colors, but it's hard to argue that nothing looks cooler than a blacked-out SUV. That may explain why Kia have added the Nightfall Edition to their SUV lineup in the US.
Fans of black vehicles are going to get a real kick out of the 2023 Kia Nightfall Edition lineup, and with several SUV models to choose from, there is something for everyone.
If the idea of a blacked-out Kia SUV sounds appealing, then you are probably wondering what Kia models are available in the Nightfall Edition for the 2023 model year.
We are here to help with that, so let's break down the models and what you get with this exclusive package.
2022 Kia Telluride Nightfall Edition
If you want the 2022 Kia Telluride Nightfall Edition, you will need to opt for the EX Premium or SX trim level. Going that route gets you the blacked-out package that includes the following exterior features:
Gloss black exterior trim 
20-inch alloy wheels with black finish 
Black finish Kia signature grille 
Nightfall Edition Kia logos 
Headlamps and fog lamps with black bezels
2022 Kia Sportage Nightfall Edition

The 2022 Kia Sportage has not one but two versions to choose from, which are the Nightfall Edition and the Nightfall Edition Premium, with both being available on the S trim level.
Both options deliver a gloss black grille with a piano black frame, black badging, piano black side sills and skid plates, piano black fog light surrounds and bumper trim, and black satin window surrounds.
Moving up to the Kia Sportage Nightfall Edition Premium package means getting even more technology features than found all the already loaded Sportage models.
2023 Kia Seltos Nightfall Edition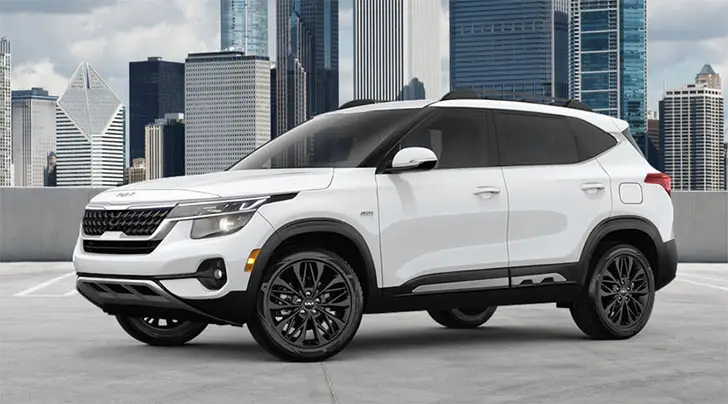 While the aforementioned vehicles are both great, they may be a little too large for some. If that is the case, then you may want to consider the 2023 Kia Seltos Nightfall Edition, which is a smaller vehicle. The Seltos is a compact crossover that looks great dressed up in black.
The Seltos Nightfall Edition will be made available for the 2022 model year, and like the others on this list, it comes with some cool design-enhancing features that include the following:
Exclusive 18-inch matte black alloy wheels
unique black grill
rugged stand-up roof rails
rugged side sills
Go dark in a Kia Nightfall Edition models 
Kia Telluride was the model that first showed up as a Nightfall Edition model in the United States. The success of that one has caused Kia to expand their Nightfall model range, with the Seltos and the Sportage joining the blacked-out club.
As it stands now, the three models mentioned in this piece are the only Kia vehicles to come equipped with the Nightfall package, but the hope is that we will see even more hit the market in the coming years. How cool would a Kia Soul look as a Nightfall Edition?
If you are ready to get behind the wheel of one of the Nightfall Edition models but need to know a little more, we suggest that you head to the Kia dealer nearby to check one out. We are pretty sure you will be sold once you see what they look like.