5 technologies that Kia plan to apply on their future vehicles.
There are numerous car brands and manufacturers out there, but Kia Motors is proving to be a real trailblazer in the industry.
Over the years, the South Korean company has consistently rolled out innovative products—from smart cop cars with reduced cablings, to luxury rides with state-of-the-art technology only seen in action films.
But of course, their groundbreaking ideas don't end there.

Below, we are going to look at how Kia is ushering in a new era of automobiles, using their signature smart car tech.
1. Kia R.E.A.D system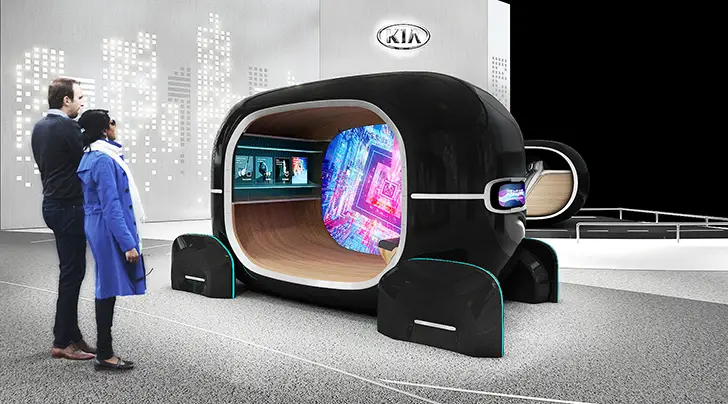 At last year's Consumer Electrics Show (CES), Kia introduced a brand new four-wheel electric cycle that perfectly embodies their vision of "Beyond Autonomous Driving."
While this concept vehicle has a lot of neat features, like self-driving technology and smart mobility, its biggest innovation comes in the form of a mood-reading artificial intelligence (AI).
As its name suggests, the tool—also known as Real-time Emotion Adaptive Driving (R.E.A.D) System—is designed to sense your mood. It is the world's first AI-based interactive in-cabin space, which makes use of facial recognition, heart rate, and electrodermal activity to detect users' needs.
Emotional-reading AIs aren't particularly groundbreaking technology. It has been used before by tech startup Realeyes in 2018, when they launched an AI that could track viewer's emotions in response to ads.
However, what is new is its integration into a fully functional cabin—one that responds to emotions using car functions.

Automotive OEMs have to work hard to create tech that embeds seamlessly into car builds, with Altium noting that different types of PCBs have to be made to suit these new functions.
Creating adaptable boards is crucial, especially as the R.E.A.D system promises to alter lighting, temperature, and the like. It can even alter the vibrations of your cars depending on your mood.
Kia's R.E.A.D system is the perfect example of how a car's entire interior system has to work together to enhance user experience.
2. V-Touch
R.E.A.D wasn't the only news Kia revealed during its CES 2019 display. The company also introduced the idea of V-touch, the world's first virtual touch-type gesture control technology.
This feature uses a 3D camera to monitor the users' eyes and fingertips, allowing them to manage the car's functions without pressing a single button.
For instance, a simple finger gesture can press "next" on the current active playlist. V-touch also allows the user to control the car's temperature, with R.E.A.D looking into whether or not it's within their comfort levels. The result is an unobtrusive display of power that's tailored for user experience.
3. Smart cruise control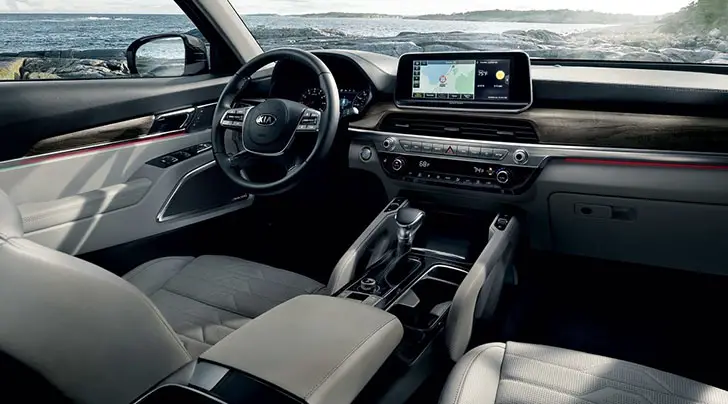 After collecting over 15 awards, the Kia Telluride has redefined what a family SUV should be like.
Aside from its sleek design and impressive 20-inch alloy wheels, it also boasts smart cruise controls to make driving more of a breeze.
First off, the Kia Telluride is a semi-self-driving vehicle. This means that it can steer, accelerate, stop, and change lanes without human intervention. However, it still requires somebody at the wheel.
This is where its cruise technology comes in. The Telluride can maintain a specified speed, for instance, unless the driver manually overrides it. Plus, it runs on a scanner place in front of the car, which enables the Telluride to automatically adjust its speed when there's incoming traffic.
4. Smart "cop" car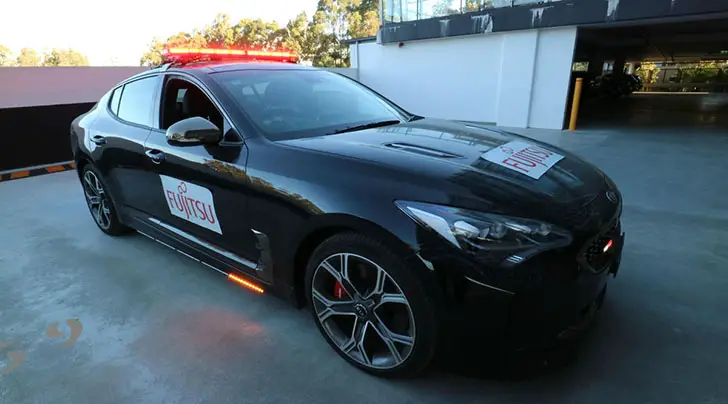 Kia, in collaboration with tech provider Fujitsu, have made strides in producing a police prototype. According to reports on ZDNet, this could make it more affordable and simpler for the police force to operate vehicles.
The prototype is based on Kia's Stinger, which is the current model used by the Western Australian police. Using Fujitsu's biometric authentication technology PalmSecure, this new police car aims to have a fully functioning and biometric-authenticating gearstick that ditches the need for complete shift control.
This means that officers no longer need to have their eyes fully on the road when they're in a car chase, making it easier to radio-in for help. The prototype will also utilize complex AI algorithms to identify manufacturers of other cars on the road, so it's easier to track stolen vehicles.
5. Automated valet parking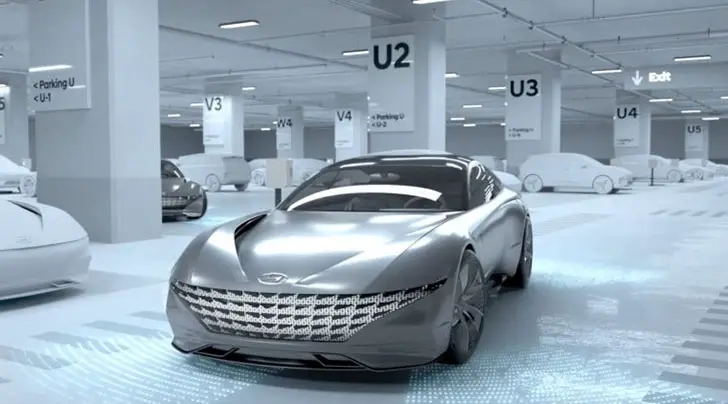 Most self-driving cars are unable to park independently – much less between two horribly placed SUVs.
However, Kia is breaking boundaries once again with their newly introduced Automated Valet Parking System (AVPS), which aims to take the guesswork out of parking.
The News Wheel states that the AVPS will be able to do two main things:
First, with advanced AI-predicting technology, it can estimate whether or not your car fits in a particular parking space.
Second, it should also be capable of positioning itself at the closest distance possible to other cars without hitting them, while still far enough away to open your doors.
What's next for Kia?
Still banking on their brand's ethos of "Beyond Autonomous Driving," we're expecting to see more exciting vehicles that adhere to their vision in the coming years.
Cars are far from perfect, and just letting them self-drive won't solve our problems. Whether it's automated parking for normal citizens or car-detection technology for the police force, Kia sees what the people need and it's aiming to provide solutions one innovation at a time.