Kia sports sedan teased ahead of its official unveiling!
The 2017 Detroit Motor Show is just around the corner, and Kia has delivered a teaser video that shows off a new performance sedan set to appear at the event.
The best bet here is that the car in question will be the new Kia GT sports sedan that we have been hearing about for a while and it must be said that the North American International Auto Show in January is a great launch venue.
Kia are playing their cards close to the vest with this one, although the new model does have a dedicated teaser website, where we can expect to see frequent updates in the days and weeks leading up to the 2017 Detroit Motor Show.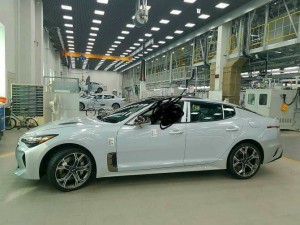 Detroit was where Kia showed off the GT4 Stinger concept back in 2014, hinting that a sports sedan might be in the works.
The introduction of such a Kia performance sedan, as well as all the hoopla surrounding it, is a sign that the carmaker is making an ambitious move in the premium segment.
The groundwork for that move has already been laid with the release of the latest top-of-the-range Optima and Cadenza models.
The Kia sports sedan launch material used for the upcoming model say it all with this blurb: "The curve ahead is all about potential. The potential to clip every apex, and consume every straight. To take on each twist and turn with agility, speed, and progressive design."
The Nurburgring test track is where the first teaser video for the new Kia sports sedan takes place.
Being on that track says all you need to know about Kia's intent, although we don't see much beside the vehicle's instruments and its exhaust sound.
It's not very much to go on, but the dedicated website promises much more in December, so we will keep you posted.
Stay tuned for more news about Kia… (photo: motorgraph.com)