The hot summer months are here, and that means trying to find an effective way to stay cool when you drive. One option available to you is to invest in a Kia vehicle that offers a seat cooling system.
After all, even with the AC on high, you can still feel hot and sticky in your driver's seat, especially if you have leather as your fabric of choice.
You now have the ability to keep cool with Kia's ventilated seats, as there are several models in the U.S. line-up that come with this luxury feature.
Best of all, many of the Kia cars with ventilated seats start at less than $30,000, so you won't need to spend a fortune on a luxury model to get this feature.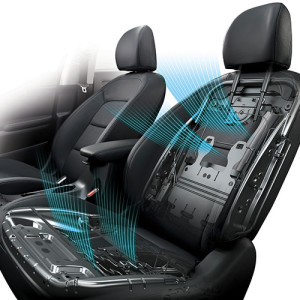 If you have ever owned a vehicle with heated seats, then you basically already know how the Kia ventilated seats technology works.
The seats come equipped with a cooling system on the inside, with cool air sent to the back and bottom of the seat when the system is engaged.
Since this technology tends to be pricy, not to mention quite heavy, it is usually only found on larger luxury models. The Kia cooled seats are, thankfully, available on models that don't have to break your budget, and those models are listed below.
Kia vehicles with ventilated front seats
Kia Forte
Kia Niro
Kia Optima
Kia Cadenza
Kia K900
Kia Sportage
Kia Sorento
Kia Telluride
While Kia's ventilated seat system appears on many non-luxury models, this is not a sign that it is inferior to what you would find in higher priced cars.
Their ingenious system is powered by an electric motor inside the seat that pushes cool air through a duct system. This ensures that the temperature is even, and that no dampness will be present when the system is in use.
Both front seats can be independently controlled, which is great when you consider that the summer sun will often beat down on one side of the vehicle.
The great news here is that Kia's seat cooling system is incredibly easy to use, as it is activated by simply turning a dial located on the center console. One flick of the wrist will have cool air passing through your seat in a matter of moments.
The summer months can often mean being subjected to a hot, sticky ride, with countless hours stuck in traffic with sweat rolling down your back. With Kia's seat cooling system, those days can be a thing of the past.