The Geneva Motor Show is not just for cars, which Kia proved nicely when they unveiled a pair of prototype electric bicycles.
What many people may not know is that when Kia first arrived on the scene 70 years ago, it was bikes that were their main area of business.
The two bike prototypes put on display serve as a nice complement to the Soul EV electric vehicle.
The bikes on display are a reminder of Kia's "Power to Surprise," with the 'pedelec' electric bikes coming in 'City' and 'MTB' mountain bike variants.
As well as having a powerful electric motor attached, the bikes also have a number of technical innovations on board, as well as a rater cool looking design.
Kia electric bicycle specs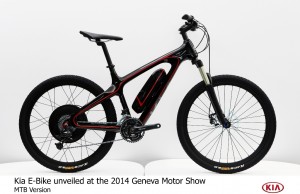 The Kia electric bicycle – KEB is propelled by a 250 watt electric motor that delivers a rather surprising 45 Nm of torque.
Power comes from a 36 volt, 10 amp lithium-ion polymer batter which has the distinction of being very easy to remove for charging purposes.
Riders are sure to love the City model, as it comes with a 40 km range on a single charge, with a full charge delivered in a mere 4 hours.
– Kia's all-new "pedelec" electric bikes have a range of up to 40 km
– Top speed for the bikes is rated at 25 km/h
– The two electric bike models (City and MTB) weight around 20kg
Both electric bikes were engineered and designed at the Namyang R&D Center in Korea.
The construction has the appearance of being carbon fiber, but the frame is actually a unique monocoque metal that is made using metal stamping and a robotic welding process.
What that means is that the quality control on the KEB is on a par with the automotive industry.
The bike is also designed to perfectly attach to any kind of bike trailer using only a bicycle trailer hitch, so those looking for riding bikes along with their kids or dogs should have lot of fun too!
New Manufacturing Process
The afore-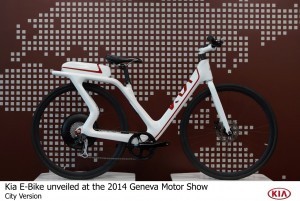 mentioned metal stamping process was developed at the Namyang facility.
To break it down into layman's terms, a metal sheet is pressed on either side of the frame before undergoing a robotic welding process that delivers an incredible uniformity of quality.
This is entirely different from how a regular bike frame is made, which is usually done via a complex and costly hydroforming process.
The production methods used allow Kia a pretty free rein when to comes to design, which includes being able to add unique surfacing details.
It also means that a wide variety of metals can be used, as the hot stamping process makes it possible to use the likes of stainless steel, aluminum, and high-tensile steel.
The same drivetrain and power pack is used on both the City and MTB models, with the weight coming in at roughly 20kg.
Top speed for the bikes is 25 kph, which allows them to comply with EU regulations.
Kia had a universal design in mind with the City, as witnessed by the step-through frame, 28-inch wheels, mud flaps, and rear mounted battery, all of which should appeal to the masses.
The MTB comes with the battery mounted mid-frame, and also has 26-inch wheels shod with all-terrain tires. It also features RockShox 100 mm front forks.
The electric motor, frame, and power packs for both models were manufactured in Korea, while the brake and gear parts were done in Japan. The final assembly took place in Germany.
It is going to be interesting to see how the media and public react to the Kia Electric Bikes, coming 70 years after they made their inaugural bike model in Korea.