STOP THE PRESSES! Kia is set to launch a stunning new pick-up truck that will turn the segment upside down!
Ok, so that isn't actually true, but given what Kia has done in the past few years, we'll bet few of you were really surprised by that announcement.
The brand once known for churning out the unexciting vehicles has gone upscale, both in design and quality.
With the overall vehicle sales on the upswing all over the world, Kia and Hyundai have been actively looking at ways they could boost sales, which may very well mean creating new models that fill the gaps that are currently in their lineups.
Hyundai has shown an interest in the small crossover market, as well as dipping into the luxury market with the stunning Genesis sedan.
Kia ,on the other hand, has been looking to go to the sportier side, especially since their GT4 Stinger concept car has had people buzzing since it started doing the auto show rounds.
Kia is remaining tight lipped about the Stinger, but head designer Peter Schreyer has made it known that he would love a sports car in the lineup.
Should Kia build the pickup truck?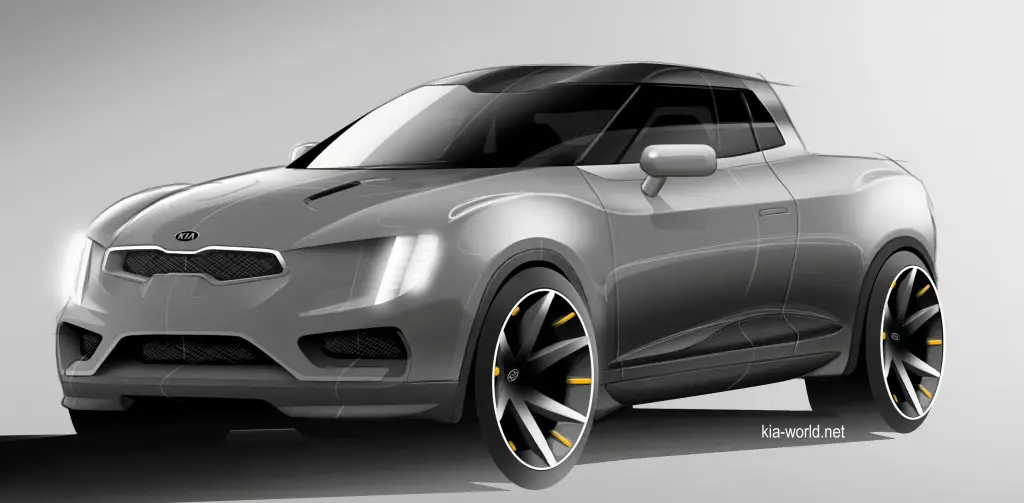 Another logical step would be a new pick-up truck model, which is actually something that Kia has already dabbled with.
It wasn't s very long ago that the Koreans looked to jump into the truck market with a great looking medium sized pickup called the Mojave.
The vehicle was created as a concept, built on the Sorento SUV platform and boasting a 280 hp V6 engine and an all-wheel drive system.
Everyone was primed for the Mojave to hit showrooms amid much fanfare, but the bottom fell out of the market as gas prices started to soar.
That left the Mojave out in the desert of abandoned new car projects, but it appears as though the sand might be getting ready to be dusted off.
What we are basically dealing with at the moment is a ton of speculation about what Kia might do in the future, but we have our money on a pick-up making it to production in the not too distant future.
Keep in mind that near future in the auto industry tends to be measured in years, as any new car would have to be put through a barrage of testing.
We will have cameras rolling and flashbulbs popping out on the streets as we look for any opportunity to snag a spy shot of a Kia pick-up truck being put through its paces.
Until then, why not take a look at this cool, recently leaked designer drawing that might just give a little insight into what to expect from a Kia pick-up.