The range-topping 2019 Kia Niro hybrid costs $32,250 (destination charge not included).
When Kia announced that they were going to introduce a hybrid crossover, a first for the Koreans, the general consensus was that it would end up being a rather pricy proposition.
It may come as a rather pleasant surprise to learn that you can get into a top of the range Niro for less than $35,000.
That model would be the Kia Niro Touring, and believe us when we tell you that this thing is loaded.
Let's take a closer look at what comes with the fully-loaded Niro Touring.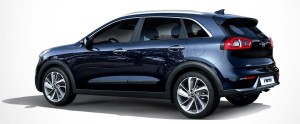 The 2019 Kia Niro Touring price starts at just $32,250, which is an excellent price for a hybrid crossover, never mind one with hybrid capabilities.
At that price, this model has a real shot at making a major splash in the hybrid market, as it's sure to draw consumers who want an eco-friendly model, but who have previously balked at the higher price points of other available brands.
The Touring trim sits at the top of the Kia Niro range, and you get a ton of features included with that remarkable price.
Touring trim in 2019
We should start this off by letting you know that you give up a little in fuel efficiency when you move up to the Touring trim.
The entry level Kia Niro hybrid delivers 50 mpg combined, while the Touring's numbers come in at 46/40/43 mpg city/highway/combined, which are still impressive numbers.
It's a great looking model that goes the 5-door crossover route, while skillfully avoiding the similar look that all hybrid models seem to adopt.
If you saw this thing out on the road, you'd be hard pressed to know that you are looking at a hybrid vehicle. This model rides on 18-inch alloy wheels which are shod in P225/45R18 tires.
Features of the fully-loaded Kia Niro Touring
The lower trim levels include features such as a touchscreen infotainment system, LED lights, keyless entry with pushbutton start, and a whole host of other goodies.
The 2019 Kia Niro Touring delivers all of that, but also throws in some additional features for good measure.
These include, but are not limited to, heated and ventilated seats, a power tilt/slide sunroof, 10-way power driver's seat with memory function, front and rear park assist, heated steering wheel, and a killer 8-speaker Harman Kardon premium sound system.
That's a lot of stuff for the top of the range Kia Niro.