Feel free to post pictures of your cool Kia cars & SUVs.
A huge part of theKEEA.com blog are the selfies and car photos published by you, the Kia driver and enthusiast.
We are looking for all sorts of different pictures, from you with your first Kia to owners who have customized their ride and want to share it with others.
Besides posting your pictures, we want to hear your comments and feedback on other owner's vehicles. We also encourage you to share pictures and comments on all the big social media sites like Facebook, Twitter and Reddit.
We have made it as easy as possible to submit your pictures. Listed below is a quick, easy to follow submission guide.
Submit your Kia photos in 3 steps
Step 1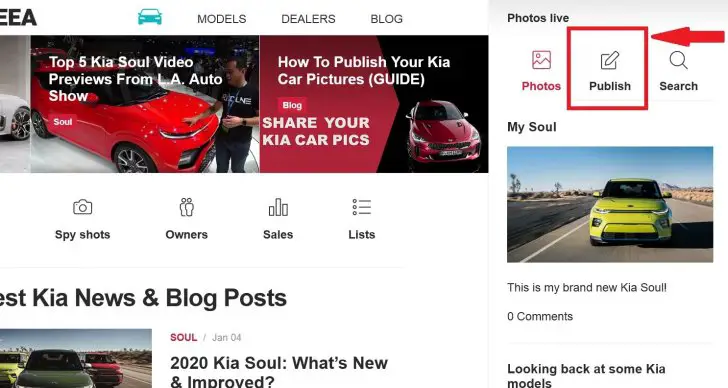 The right side of the website is where you will find pictures published by owners just like you. To post your own image, start by clicking the "PUBLISH" button.
Step 2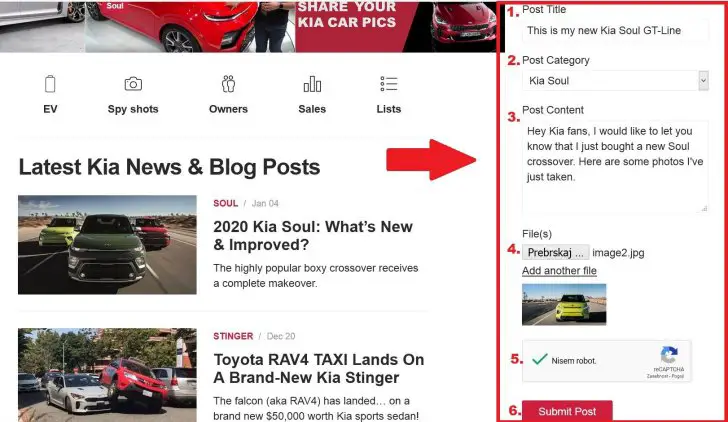 Once you have clicked the publish button, a form will open up. You are required to fill in all the empty boxes, after which you chose the appropriate category and add your photo.
It is possible to add multiple pictures at this step.
The final part of this step is to check the re-CAPTCHA button and wait a few moments for the green ticker to appear. Waiting for the green ticker is important, as failing to do so could mean that your picture does not post.
Click "Submit Post" and you're done!
Step 3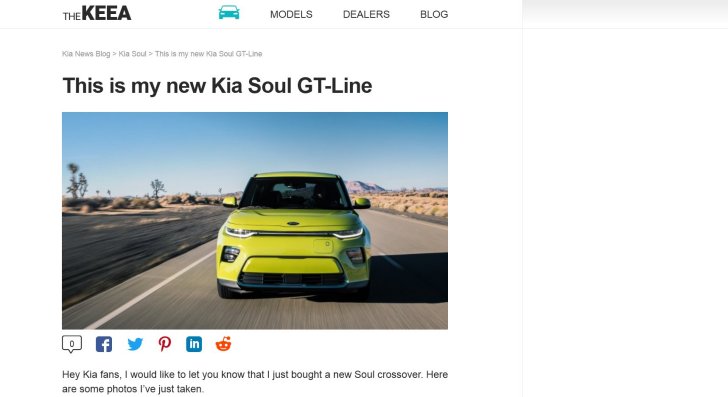 You will be automatically redirected to your actual post with pictures.
What if the system fails to post my pictures?
There may be instances when your picture submission fails to post to the site.
Listed below are some of the potential issues:
Bad connection – A poor internet connection could stop the upload process before it has time to complete.
Large image file size – The maximum image size that you can post from your smartphone or digital camera is 5000 x 5000 px. If the image is larger, please resize and try again.
re-CAPTCHA – you clicked the re-CAPTCHA, but you failed to wait for the green ticker. In this scenario, the system will believe you to be a bot. Go through the process again and wait for the green ticker before submitting.
What is re-CAPTCHA?
This handy little tool that Google created was designed to prevent spam attempts and automated bot posting.
If you have addressed these issues and are still having problems with posting, please feel free to contact us at [email protected] . Alternatively, you can fill out the contact form at the bottom of the page.