The Kia Cadenza premium sedan has been named the International Car of the Year by Road & Travel Magazine in an announcement made at the 2014 North American International Auto Show in Detroit.
It was a combination of great design, impressive amenities, and affordability that vaulted the Kia Cadenza to the top of the list.
This is another big win for Kia who have been receiving all sorts of great accolades for their entry into the premium sedan segment.
The Road & Travel Magazine magazine delivers a pair of awards annually, with one going to a car and the other to a truck.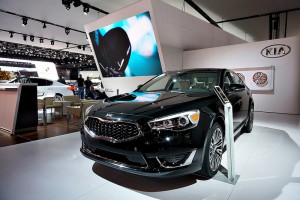 The award is not just given to the vehicle that delivers on style, comfort, and performance, but which is also able to connect on an emotional level in the way in which it is marketed.
The jury that makes the final selection is comprised of automotive journalists from a selection of respected magazines.
Courtney Caldwell, editor-in-chief of Road & Travel Magazine, commented that the Cadenza won the award for a number of reasons.
The jury were taken with how beautiful the car is, and how applaud able it was that the upscale style was still affordable to such a large audience. She believed that Kia's rise is best described as "underdog to unbelievable."
As mentioned earlier, the 2014 Cadenza has received a number of impressive accolades, including taking the top spot in Motor Trend Magazine's full-size sedan comparison test and being put on the shortlist of vehicles in the running for 2014 North American Car of the Year award.
1. Kia Cadenza enjoys the initial sales success in the United States with sales averaging at around 1,000 units monthly. Read more about Cadenza sales figures here.
2. Cadenza owner interview – Susan appears to be one of the first owners of the 2014 Cadenza in the USA. Find out what she told us about her Kia ownership experience.
3. Review – A "walkaround" video review of the new Kia Cadenza with the "Technology Pack".