Rumors surrounding the 2016 Kia Cadenza release date, as well as latest news and information on the upcoming redesign changes.
Known also as Kia K7, the Cadenza has been on sale in Korea for several years already before joining the Kia U.S. vehicle line-up in late 2013.
Sharing the front-wheel-drive platform with its Hyundai Azera premium sedan cousin, the Cadenza went on sale in the USA as a 2014 model year vehicle.
Almost a year after the inaugural Cadenza release onto the US market, Kia has launched a 2015 model with minor tweaks and improvements to keep the vehicle fresh and attractive (until the fully redesigned Cadenza appears in 2016).
2016 Cadenza Launch Date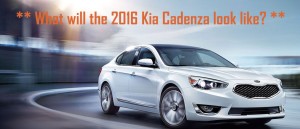 The official launch of the Cadenza redesign remains a secret at this point, however, we do expect the model will see the day of light during the 4th quarter of 2015 or early in 2016.
With days and weeks passing by so quickly, it seems like the official Kia Cadenza release date is approaching fast, so Kia may "soon" release first official sketches of their fully-redesigned FWD premium sedan.
They usually do this several months ahead of the new vehicle launch, so you can expect first Cadenza teaser images to hit the web before the end of 2015.
Kia Cadenza Redesign Changes
When it comes to the next-generation cars, Kia is known to make significant changes to their vehicles, rather than making only modest exterior and interior upgrades.
Therefore you can expect the 2016 Cadenza to receive a completely overhauled exterior design and interior layout.
Also new or heavily updated will be the core powertrain technology, including the engine line-up and transmission.
We hear that the vehicle will have a new platform, which will be lighter than the one used in the current model and will enable the Cadenza to offer more premium feel during the ride.
Another feat of the revamped model will be a little sportier handling.
Also rumored to appear in the 2016 Kia Cadenza is the new hybrid-electric drivetrain system that will make the vehicle more fuel efficient (read: cost friendly), but official specs of the hybrid powertrain remain a mystery at this point.
We are confident that the Cadenza hybrid sedan will also be offered in the USA in 2016.