The New York International Auto Show is off and running, and today will see the 2017 Kia Cadenza take center stage.
From what we have seen of this new vehicle already, it takes the already beautiful Cadenza premium sedan to all new heights of design brilliance.
There are a ton of changes to the new model, including powertrain upgrades, stronger body structure, premium enhancements, and a beautifully appointed cabin that is home to all sorts of new technology that assist the driver in a number of different way.
Kia Cadenza pictures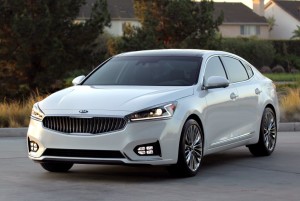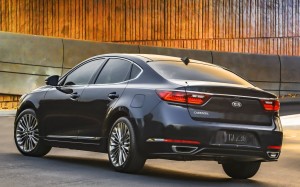 The team at Kia's California design studio must have spent a lot of time on the new front fascia, as it really stands out, in a good way.
2 different grille designs
The 2107 Cadenza is actually a little unique in that it comes with 2 different grille options.
The lower trim levels will show off the Diamond Butterfly grille, which is seen in some other Kia models, while the higher trim models will sport vertical blades on the Intaglio grille.
Exterior dimensions
The changes in the overall dimensions of the Kia Cadenza 2017 – model year – certainly help enhance the exterior design.
The length stays the same as before, but this version is a little lower in height, as well as being wider.
Some extra length on the wheelbase helps add some legroom for passengers in the rear. The roofline was stretched rearward to give the vehicle a sportier profile, whilst also improving headroom and trunk space.
Improved safety, ride & handling
The new Kia Cadenza now has twice as much (over 50%) advanced high strength steel as was in the body structure of the outgoing model.
Structural stiffness, which helps with driving dynamics, has been improved with the use of structural adhesives and hot-stamped components.
A retuned suspension and the addition of Amplitude Selective Damping shock absorbers help improve stability and ride comfort.
Engine specs
The 2017 Kia Cadenza is powered by an updated version of Kia's 3.3-liter V6 engine, with the changes made to improve fuel efficiency.
Exact figures are not yet available, but it's expected that this unit will crank out about 290-hp. The power will be sent to the front wheels, and will feature an 8-speed automatic transmission.
Engineers with Kia made sure that the V6 engine would be one that was reliable and durable, which was why they tested it at full load for 41 straight days, clocking 100,000 miles in the process.
2017 Cadenza On-sale date, dealership arrival
The 2017 Kia Cadenza is set to go on sale later this year, with pricing likely to be announced closer to that release date.