The Kia brand is sure to get another boost with the enhancements made to the 2015 Cadenza premium sedan, which includes upgrades in luxury, technology, and convenience.
The Cadenza premium sedan comes with a choice of two different trim levels, which are the Premium and Limited.
The new version has a lot to live up to when you consider that 2014 was the year in which the Cadenza was named the International Car of the Year by Road and Travel magazine.
That was no real surprise since the car is a great value with a great driving experience and stunning European styling.
What's New?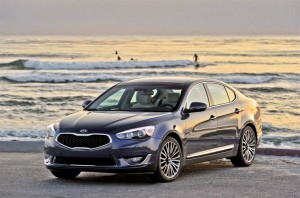 The Limited trim level comes with a few new features and design enhancements, starting with a new grille and fender garnish.
There is a lot to love on the inside, too, with changes made to make the experience that much better for the driver.
That includes the use of Flex Steer, as well as a Surround View Monitor which delivers an almost 360-degree view that helps with parking and other maneuvers. Also included are some chrome touches, a new analog clock design, and new LED lighting elements.
Both trim levels include an 8-way power adjustable seat as standard, as well as an available 12-way driver's seat.
The 2015 model year comes with an enhanced technology package that includes Rear Cross Traffic Alert, warning drivers of cross traffic when in reverse, and includes 19-inch alloy wheels, a radar-based Advanced Smart Cruise Control System, Blind Spot Detection, Lane Departure Warning System, electronic parking brake, and water-repelling Hydrophobic front side windows for improved visibility during inclement weather, all of which are standard on the 2015 Kia Cadenza Limited.
List Of 2015 Model Year Changes, Improvements
Let's take a look at the changes and improvements of the 2015 Kia Cadenza:
Exterior, Interior Changes
New grille design and fender garnish on Limited trim
Interior enhancements including: LED room/map lamps, chrome trim finishes, wood grain with metal accents and new analogue dash clock design
Trim Levels, Packages
Panoramic sunroof available as standalone option on Premium trim
Technology Package available on Premium trim
Standard Flex Steer, Surround View Monitor on Limited trim
Rear armrest with cup holders and USB charging
Rear Cross Traffic Alert included in Technology Package; standard on Limited trim
Standard 8-way power front passenger seat