The all-new Kia Carens offers a choice of 3 different 4-cyl. engines.
There are two gasoline and one diesel (low and high power output variants) choices, which means a wider selection of power outputs than with the previous generation model.
The engines range from 115 ps to 166 ps, delivering great fuel economy and CO2 emissions that will run from 124 to 179 g/km on manual models.
Diesel Engines
1,7L CRDI Diesel, 115 (260Nm) or 136 horsepower (330 Nm of torque)
Kia has already seen some real success with the vehicles that have the 1,7L CRDI diesel engine, which has 2 available versions in the new Carens MPV.
The lower powered of the two will deliver 115 ps maximum power and 260 Nm maximum torque, whereas the higher powered version will produce 136 ps and 330 Nm.
Slight modifications have been made to both so that CO2 emissions will be as low as 124 g/km on the ISG stop/start equipped model. That means a 17% improvement over the previous Carens.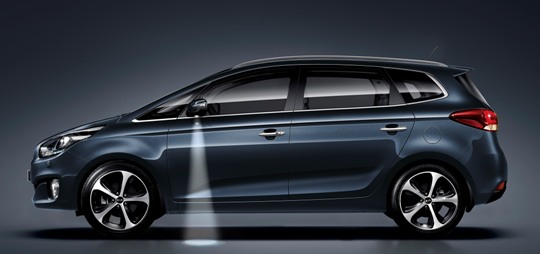 Petrol Engines
The gasoline engines will feature gasoline direct injection -GDI technology which means a nice little boost in power without fuel efficiency being affected.
The 1,6L GDI engine, which has appeared in both the cee'd hatchback and Sportage crossover vehicle, delivers a maximum of 135 ps and 164 Nm, while the more potent 2,0L unit is good for 166 ps and 213 Nm.
Six-speed transmissions for all Carens models
Kia achieved a balance between performance and economy by fitting each new Carens with a 6-speed transmission.
Low first and second gear ratios are used to boost low-speed acceleration, while the 6th gear, or high top, allows for lower revs while the car is in high-speed cruise mode. That helps cut back on cabin noise whilst also dropping fuel consumption.
There is also an optional 6-speed automatic transmission available on the top-of-the-range diesel and gasoline powered Kia Carens.
The transmission is made in-house by Kia and enables the driver change gears using the paddle-shifters.
Extensively engineered running gear
Handling, stability, and ride quality have all been improved on the all-new Kia Carens, thanks to the development of the suspension and running gear.
The 2013 Carens MPV features MDPS electric power-assisted rack-and-pinion steering which also comes with a torque and angle sensor that helps protect the car from gusts of wind that hit side on. The steering wheel can also be adjusted for reach and height and is geared for 2.7 turns.
The Mcpherson strut front suspension is mounted on a sub-frame to isolate and lessen road shocks.
At the back od the vehicle, the coupled torsion beam axle is engineered with a strong connection between the trailing-arms and the stub-axles. This helps deliver a comfortable ride, whilst reducing under-steer and bump-steer.
Kia Carens Tires, Brakes
All Carens models come standard with an all-disc braking system that will feature 300 mm ventilated front and 284 mm solid rear discs. The performance is supported even further by the addition of ABS anti-loc electronic brake force distribution and emergency brake assist.
The standard tire package consists of 16-inch steel wheels with 205 / 55 R16 low rolling resistance, but customers also have the option of going with 17-inch silver or 18-inch dark grey alloy wheels.
Kia also had a display that showcased their new turbocharged T-GDI (gasoline direct injection) engines that are currently being developed in Korea.
Read About – Kia gdi turbo engines