CarAndVanNews from UK test drives the all-new Kia Carens MPV.
They admit that Kia's 7-seat minivan is major improvement compared to the previous generation model.
It looks far better than the old Carens, provides more space inside the cabin and uses higher grade materials.
Here are a few more thoughts from their editors…
New Kia Carens review
The all-new Kia Carens is a vehicle that has been around for a while, yet has gone somewhat unnoticed.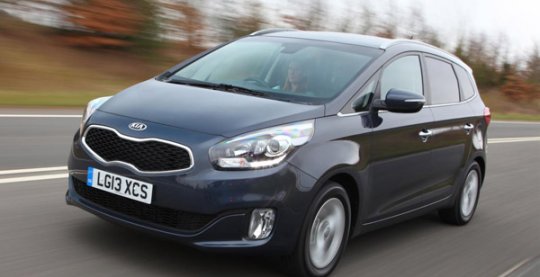 That is about to change, thanks to the most recent redesign of the carmaker's 7-seat MPV, which has been styled under the guidance of Peter Schreyer, the Chief Design Officer of both Hyundai Motor and Kia Motors.
The Carens MPV differs from that of the previous generation and  you don't have to be an auto industry expert to see the positive effect that Mr. Schreyer has had on the latest minivan design.
The sleek design of the new Kia Carens makes it more akin to the Kia Ceed family, as opposed to the bulky design of other people carriers.
The inside is equally impressive, with a stylish look comprised of quality materials and soft-touch finishes. That is evident on all trim levels, which are named 1, 2, and 3 (in the UK).
The cabin is far roomier than the previous Carens, whilst also delivering a high level of practicality, most notably in the one-pull third rows of seats that fold flat.
The car is loaded with plenty of storage space including underfloor compartments, door pockets that can easily handle drink bottles, and more.
There are also some cool add-ons such as a cooled glove compartment, flip tables on the back and front seats (except for the base model), and a middle row seat that can be folded down to make a table.
The middle row is flexible in many ways, making for a number of great practical options.
Diesel Engines Are Great
There are three different engine choices: 1.6L petrol and 133bhp, and a 1.7L CRDI diesel with either 114 or 134 horses.
The more powerful one can be specified with a 6-speed auto gearbox (which significantly compromises economy and emissions) otherwise a six-speed manual is fitted.
CarAndVanNews got to try all of them, concluding that the petrol version was the only one they didn't particularly like.
Their issue with it was a noticeable lack of lowdown grunt when the vehicle tackled a steep gradient.
Given the option, they said they would go with the larger diesel, thanks to its combination of fuel economy and power.
The Carens proved to be an adequate performer on the road, but given that drivers are more concerned with the practicality of this segment, it should be enough to please most folks.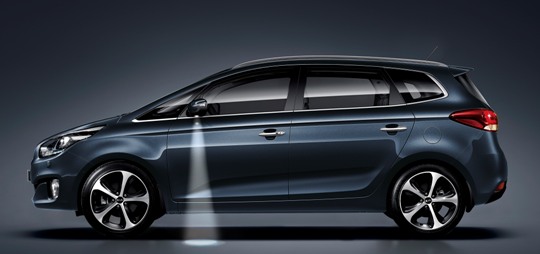 Kia Carens Pricing
Kia has somewhat dispensed with their goal of undercutting the competition in pricing, with the Carens coming in at £17,895 to £23,895, which is pretty much in the ballpark of the pricing for Ford and Peugeot.
It should be noted that you do get a lot for your money, though, with standard features such as cornering headlamps, daytime running lights, cruise control, Bluetooth and the like, while the 2 grade gets alloys, roof rails, chrome bits, auto lights, rain-sensing wipers, dual-zone air-con and more.
Move up to the Grade 3 and you get larger wheels, panoramic sunroof, leather upholstery, 10-way driver's seat adjustment, reversing camera, and more.
Perhaps best of all, though, is the 7-year 100,000 mile warranty that comes with every new Kia Carens. [Source: CarAndVanNews]
Liked the new Kia Carens road test? Feel free to share your thoughts with us!