New Kia Rondo made its worldwide public debut at the 2012 Paris Auto Show, but with the Carens moniker, which is what it is named in Europe.
Less than four months later, the Rondo has been put on display at the at the Canadian International Auto Show in Toronto, making its inaugural North-American premiere.
The all new 2014 Rondo MPV boasts sleek and sculpted exterior design which marks a dramatic shift away from the look of its predecessor.
"I wanted to give the all new Kia Rondo a sleeker look and feel, to create a design that envelops its functionality and versatility in something altogether more athletic and dynamic," commented Peter Schreyer, Kia's chief of design (and recently-appointed company president).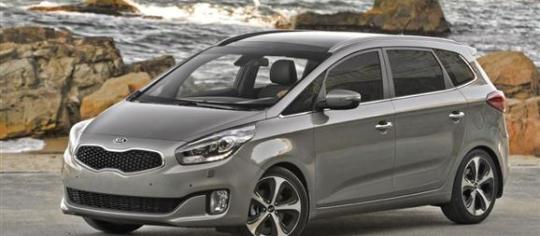 The eye-catching Rondo MPV features a spacious and versatile interior with 5 or 7 seats.
Thanks to the increased wheelbase (+ 50mm) and "cab-forward" design, which places the base of the A-pillar above the front-wheel centre line, the new model offers generous cabin space.
The 2014 Rondo also offers a handfull of storage compartments (under-floor storage boxes and under-seat drawers) located throughout the spacious cabin.
2,0L GDI 4-cyl. engine
The Canada-specs Rondo MPV will be powered by the alll new 2,0L gasoline direct injected (GDI technology) four-cylinder engine generating an estimated 164 horsepower and 156 lb-ft of torque.
Mated to the 6-speed automatic or 6-speed manual transmission, the highly-advanced 4-cyl. engine transferrs power to the front wheels.
All new Kia Rondo will show up in Canadian dealerships this spring. There are no details on pricing at this point, but we will update you on it once available. Stay tuned!