Kia wants to make sure that their GT model range (on sale only in Europe) remains competitive and among the best looking hot hatches on the market.
Therefore, the automaker introduced several enhancements and upgrades to the powertrain and dynamics on their 2016 GT hot hatchbacks.
We have pointed out 9 most important visual and technical improvements of the 2016 Kia cee'd GT & pro_cee'd GT models.
Let's dive into details!
On the outside, the GT models maintain the same aggressive styling that sets them apart from the other cee'd models.
The sporty styling is highlighted by the cool looking ice cube daytime LED running lights.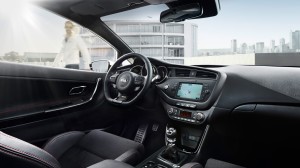 The 2016 Kia cee'd GT now has available 18-inch wheels, which are the same as the ones found on the US-market Forte SX.
The interior of both Kia GT models now comes with a newly designed flat-bottomed steering wheel that features a subtle GT logo.
An aluminum start/stop button is also included, which is different from the black button found on the standard models.
A few chrome accents have also been added to certain interior elements.
The vehicles also come standard with sporty RECARO seats, which help add to the sporty look whilst also further setting them apart from the standard models.
Another feature exclusive to the 2016 Kia GT models is an electronic sound generator, which puts the car in GT mode when pressed.
In short, it synthesizes the sound of the 1.6-liter T-GDI and adds the revving sound in the cabin, making the driver feel more in touch with the performance of the GT.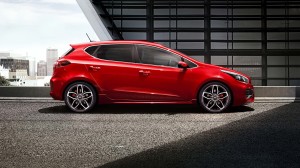 When the sound generator is not activated, the cabin is filled with a quieter engine sound.
The aforementioned engine now comes with a new turbocharged system. This new addition helps boost low end torque, whilst also shaving 0.1 seconds off the acceleration from 0-100 km/h, which now sits as 7.6 seconds.
In addition to that, Kia is now offering the GT models with optional enlarged front disc brakes, increased in size from 300 mm to 320 mm!
This results in higher heat capacity and improved resistance to brake fade.
The stopping distance from 100 km/h to 0 km/h in the upgraded 2016 cee'd GT has been reduced from 36.4 metres to 35.0 metres!
List of changes applied to the Kia GT models for 2016:
new 18-inch alloy wheels
flat-bottomed steering wheel design
aluminum start / stop button
added electronic sound generator
upgraded turbocharger system 

boosts low-end torque and engine response

acceleration from 0-100 km/h improved by 0.1 to 7.6 seconds

NVH improvements

upgraded dynamics of the GT range

larger front disc brakes