Kia recently announced that they would be entering into the hot hatchback market with their all-new Por_cee'd GT, and now there are actually some details that have been revealed.
Most importantly, there will be not just one, but two GT cars released by mid-2013. Those cars will be the 3-door Pro_cee'd GT and the 5-door Cee'd GT.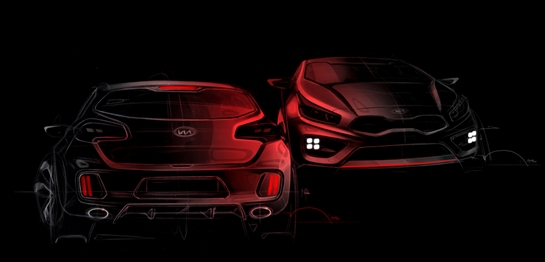 Both vehicles will have a 1,6L GDI petrol turbocharged engine under the hood. The engine delivers 204 horsepower and 265 Nm of torque, which basically translates to a car that will go from 0-100 km/h in a rather snappy 7.9 seconds.
That's a pretty big improvement over any other Cee'd that can be found on the road at the moment.
Cee'd GT styling
Performance is very much at the heart of these new models, with significant changes made to the chassis and suspension systems.
Kia wants these GT models to stand apart from the regular Pro_cee'd and Cee'd models, which they are doing by adding a number of different features.
Both GT's will be sporting revised grilles and more aggressively styled bumpers. They will also have sporty 18-inch alloy-wheels with red brake calipers, and some unique paint finishes that will deliver a very striking exterior appearance.
Additionally, the GT models will also have 4-point LED daytime running light, which add an extra level of safety, as well as giving the cars a whole new character.
The interior of each hot hatch will also get a very cool look, courtesy of Recaro sports seats, alloy pedals and bespoke surface materials, all of which combine to deliver a performance feel for the driver.
Production of Kia GT models is set to begin at the Kia facility in Zilina, Slovakia in May 2013. The cars will go on sale across Europe by mid-2013, with prices and specifications to be revealed closer to that date.