Here we have a couple of high-resolution photos of the all-new Kia Pro_cee'd GT!
Kia pro_cee'd GT is the carmaker's very-first performance-focused production car ever!
The 3-door GT model is powered by Kia's new version of the 1,6L GDI turbo engine with power and torque outputs of 204 horsepower and 265 Nm of torque.
Mated to the highly-advanced four-cylinder T-GDI engine is a six-speed manual transmission.
Kia Pro_ceed GT Coated In Red Color Photos
The new Kia pro_cee'd GT is the perfect car for you, if you're looking for great style and performance.
The car accelerates from 0 to 100 km/h in 7,7 seconds and reaches a top-speed of 230 km/h.
Kia says the model features a significantly improved suspension system, which results in exceptional dynamic driving characteristics.
Styled in Europe under the guidance of Mr. Peter Schreyer (President and Chief Design Officer at Kia Motors), the pro_cee'd GT boasts a restyled front grille and lamp clusters.
The performance car stands out with its distinctive LED daytime running lights integrated into the aggressively designed front bumper.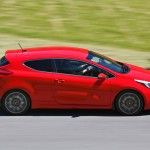 The pro_cee'd also sports a stylish honeycomb mesh grille inserts with a GT badge, 18-inch alloy wheels and red brake calipers.
We find the alloys of the GT model particularly attractive, so we put it on the list of 5 best-looking Kia alloy wheels designs.
The interior of the pro_cee'd GT is jazzed up with a pair of high-quality Recaro sport seats, alloy pedals and sports steering wheel with red stitching.
Kia pro_cee'd GT 3-door, along with its 5-foor cee'd GT sibling goes on sale this summer.
Kia Pro_cee'd Promo Video
As you've seen at the images above, the all-new pro_cee'd looks stunning in red color. But how about the model coated in white exterior color? Do you like that one as well?
Here's a presentation video of the white-painted pro_cee'd GT. Enjoy it!
P.S. Have you seen the image rendering of the pro_cee'd GT cabrio? Note: The car is not scheduled for production but still well worth to look at!