Another week and another great looking Kia ride! Today, we would like to introduce Pascal Feldmann from Germany. He's a very proud owner of the first-generation Kia pro_cee'd three-door hatchback.
Coated in white exteior finish, the highly-attractive pro_cee'd boasts a plethora of exterior accessories and tuning parts, as well as custom painted interior.
Let's see what Pascal has to say about his white Kia pro_cee'd!
P.S. Pascal is a member of Kia club in Germany which is organizing Germany's largest Kia meet ever. Here are some details about it: http://www.kiaforentag.de/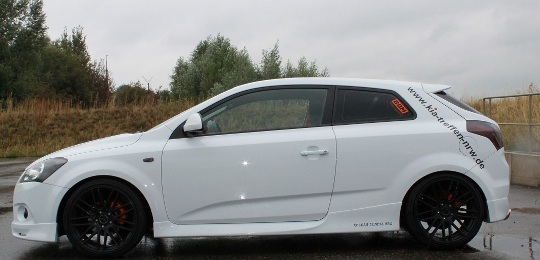 1. Tell us something about your Kia car ownership experience?
Honestly, I am really happy with my car. It runs great and I ahve never had any disappointing moments so far.
Lately, I haven't been driving the pro_cee'd on a daily basis, since I have a company car to use for work, so my Kia's becoming a show-car more and more…
2. What do other people say about your customized Kia pro_cee'd?
Those that do not recognize it ask me, if it's a Ford or an Opel (Vauxhall). Most of them are really surprised, when they find out that this is a Kia.
Everyone also says I shouldn't spend so much money on modifying the car, but at the end, they all admit the car looks great and say I've done a great job!
3. How long have you owned your ride?
I've owned my car for nearly 4 years now. I am one of the first owner of the Kia pro_cee'd in my country. I bought it on March 2009, shortly after the first models hit the local Kia dealerships.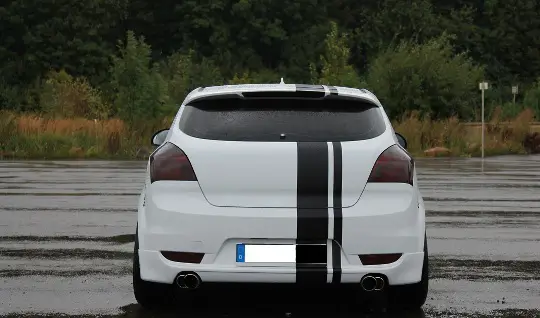 4. Honestly, what was your intention when you bought your Kia?
That's an interesting question. I have to admit that my plan was to buy a BMW at first place.
I first went to the BMW and VW dealers. When I arrived back home my father told me that a friend of ours bought a 5-door cee'd recently and that I should give it a try.
So, I visited a local Kia dealer and took a closer look at the pro cee'd. I was impressed with the car's overall quality and especially its roomy interior.
At the end I narrowed my selection to three cars: VW Golf, BMW and Kia.
Since both German cars were pretty expensive, the choice was easy. I got myself a brand-new white Kia pro_cee'd which was more affordable, plus it offered
5. What do you like the most about your Kia Pro_cee'd?
Let me think. I like the car's exterior looks and quality built interior, as well as the fact that many people can't believe this is a Kia car.
There are still many people who thing Kia vehicles can not match German car quality. That ain't true.
6. What is it that makes your ride look unique?
It's the upgraded interior that, in my honest opinion, makes the car look unique. I have done a lot of upgrades to the interior, so feel free to check the pictures below.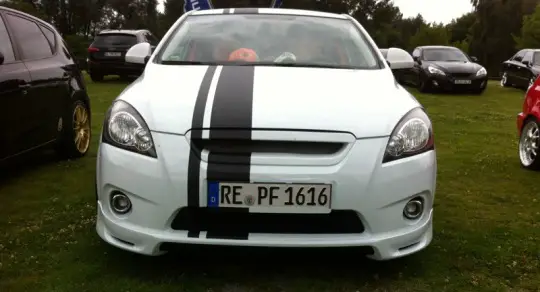 7. What accessories have you installed so far / do you have any future plans?
Do I have to mention all over here? 😉 Hopefully I am not missing anything:
H&R lowering springs (about 1.5″ – 35mm), IBHER front-grille, Giacuzzo body-kit, original kia sports headlights (modified them a bit – removed the yellow turn-signal bulb), painted the door-handles to car-colour, removed all KIA emblems, turn-signals/rear lights tinted with lamination.
Bastuck sports-exhaust with Porsche-Style endings, two carbon-look stripes by lamination over the whole car, whole interior done with artifical-leather (black/white/orange), integrated the carbon-stripes into the seats also, 19″ ASA GT-1 rims with 225/35 tires for summer, 18″ Tomason TN1 powdercoated in bright orange with 225/40 tires for winter, cleaned trunk-door, carbon-box instead the air intake, painted some intereior parts to orange.
Last but not least: a whole sound-system remake with Alpine ICS-X8 headunit, ETON adventure front-system (frequency-bridge modified that it works like fully-active), 2 RockfordFosgate 12″ P3SDS412 subwoofer, RockfordFosgate T1000-1bd amp for the woofers, Hifonics Triton 4 as front-system amp and two airbrushed sharks to the fiberglass subwoofer-case
For the future I plan on getting heigth adjustable coilovers and a few other minor mods. I never know what ideas come to my mind… 🙂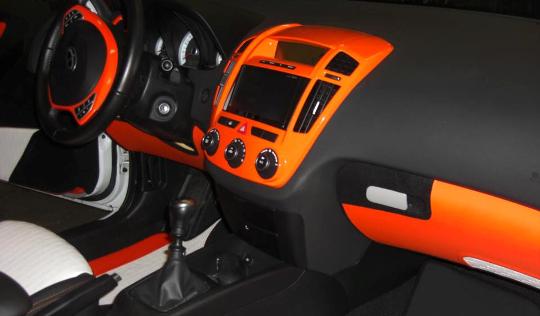 Kia Pro_cee'd Specs & Details
Car information: Kia Pro_cee'd
Engine: 1.6L with 126hp
Color: so called "carrara white"
Model year: 2008
Tire size: 225/35 summer and 225/40 winter
Miles driven so far: 38,125 (61,000km)