Sometimes owning a new car comes around somewhat by accident, which is the case with the latest entry in our Kia owner series.
Before landing in his current 2013 Kia Forte EX 5-door hatchback, our owner found hinself with credit trouble that made getting the car he wanted an issue.
He ended up purchasing a Dodge Caliber from a local Kia dealer in Rochester Hills, Michigan and was told that if he could make payments on time for a year, they would get him into the Kia of his choice.
A year of on time payments later and the promise was made good.
What came as a major surprise to our driver was the amount of features that he was able to get for the money.
Cool features such as satellite radio, Bluetooth conenctivity and more are a lot more than he expected for the price that he was paying. It also helped that the dealership offered ridiculously cheap oil canges and maintenance, making it easy to look after his new baby.
The car has drawn appreciative glances and comments from other drivers, which will only increase as he makes the changes he wants to the car.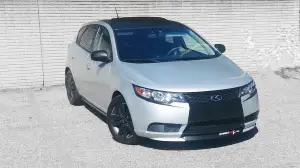 He has picked up a lot of great advice from people at various car tuning forums, but the one piece of advice he won't follow is lowering the car too close to the horrendous roads he has to navigate on his way to and from work.
Let's find out more about Vince's Kia Forte 5-door hatchback and his Kia ownership experience.
1. Tell us something about your Kia Forte ownership experience!
So far I'm very impressed with the car and my dealership visits. The car is solid and comes with nice features that come standard.
I love the $7.99 oil changes and they even wash my car too!
2. What do other people say about your car?
At work the refer to me as speed racer or Mr. Fast and Furious lol. Not a week goes by where someone doesn't ask me what kind of car is that.
I've had my car for 7 months now and I've caught 4 people taking pictures of it. I talked to a guy in a Scion taking pics and he said nice work and wanted to show his friends my car.
I haven't done too much but this car is always turning heads.
3. What was your intention when you bought your car?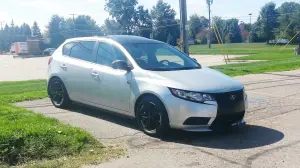 Honestly, I've never thought once about a Kia. A couple years ago my credit wasn't the best so I got hooked up with a Kia dealer and they sold me a used Dodge Caliber.
The salesman told me to drive it for a year, make payments on time and he would get me into a new Kia.
I did what he said and to my surprise, he got me into a 2013 Forte 5door in a year. My favorite vehicle so far!
I've had a Jeep Wrangler, Honda Accord, and Ford Fusion amongst others and this has been the best!
The wife loved it too so my salesman was able to get her out of her Honda CRV lease early and into a 2013 Sportage with only $10.00 more per month! This Sportage blows away the CRV!
4. What do you like the most about your Forte 5-door?
What I like most about it is what I got for the money. I love the Bluetooth, satellite radio, peppy engine, and the tight steering.
6. What is it that makes your ride look unique?
The only things I've done so far are plasi dip on some parts, window tint, and an aftermarket front lip.
I've blacked out the front grill, part of the front bumper, wheels, roof, side view mirror covers, and accents on head and tail lights. This gives it a sporty and unique look.
7. What accessories have you installed so far / do you have any future plans?
So far, an aftermarket front lip, chrome dash kit, front and rear "K" emblems, window tint, and a K&N air filter.
Future plans include a strut bar, cold air intake, performance muffler, side skirts and rims for the summer.
Kia Car Specs
Model: 2013 Kia Forte 5-Door hatchback
Engine: 2.0-liter 4-cylinder
Color: Silver
Trim Level: EX
Average MPG: about 25-30 mpg
Miles driven so far: about 12,500 miles