It's good news for the all-new 2014 Kia Forte, as it has been named as the best compact sedan by Cars.com.
The award came after the Compact Sedan Challenge, which puts cars through their paces over the course of several days.
Experts from Cars.com, USA Today, and MotorWeek conduct the tests before delivering their professional opinions on how each car performs.
A number of different criteria are measured in the Compact sedan Challenge, including comfort, styling, economy, and drivability.
Forte news update: 2017 Kia Forte news…
Some of the major players in this year's competition were the 2013 Honda Civic, 2014 Ford Focus, 2013 Subaru Impreza, 2013 Hyundai Elantra, 2014 Toyota Corolla, and 2013 Nissan Sentra.
The 2014 Kia Forte stood out in large part because of it spaciousness and premium amenities.
The Forte really did stand out from the crowd. Its distinctive exterior turned heads, and the list of premium features that came standard also impressed.
Ride, handling, and affordability also played a part in showcasing one of the best-rounded cars in the compact sedan segment.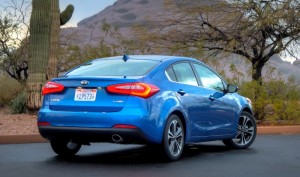 The interior space afforded by the new Kia Forte is down to its distinctive European styling.
The same rules apply when it comes to handling, performance, and amenities, all of which are more than you would expect from this category.
Michael Sprague, executive vice president of marketing & communications, KMA, was delighted with the award from Cars.com, especially since they highlighted all the things that Kia Motors had hoped to achieve with the car, including premium amenities at an affordable price.
Video Of The Compact Car Challenge
Conclusion: Cars.com editors state that the compact cars may not be as attractive as higher-end luxury sedans or performance sports cars, but they still provide the owners with large amounts of standard tech features, luxury flourishes and exciting extras.
For example, the 2014 Forte offers several segment-exclusive extras including the air-cooled ventilation, leather seat trim, heated steering wheel, FlexSteer and UVO in-vehicle infotainment and telematics system.