Based on the Forte sedan, the 2015 Kia Koup coupe continues to provide an impressive collection of features in a fun-to-drive 2-door version.
Available in two trim levels, (base EX and range-topping SX), the 2015 Forte Koup offers a choice of two engines and transmissions.
Before we dive into the pricing of the Kia Forte Koup, let's just take a quick look at the engine offerings:
The base EX model comes equipped with a 2.0L 4-cylinder engine that generates 173-horsepower, while the range-topping SX model comes available with Kia's highly-potent 1,6L T-GDI unit.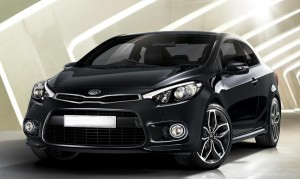 The 1,6L turbo engine produces 201 horsepower 195 lb.-ft. of torque!
Both the EX and SX come standard with a 6-speed manual transmission and also offer the customers to go with the 6-speed automatic transmission (which also features steering-wheel-mounted paddle shifters!).
2015 Kia Forte Koup MSRP Pricing Range
Let's have a look at the Forte Koup MSRP prices for both trim levels:
Forte Koup EX … 2,0L engine, 6-speed manual tranny … $18,590
Forte Koup EX … 2,0L engine, 6-speed automatic tranny … $19,590
Forte Koup SX … 1,6L turbo, 6-speed manual tranny … $20,590
Forte Koup SX … 1,6L turbo, 6-speed automatic tranny … $21,590
Note: prices here do not include a destination charge of: $825
Optional Packages Available
$100 Exclusive Aurora Black Pearl exterior paint – availability: EX and SX trims
$100 … Snow White Pearl color – availability: EX only
$2,200 Premium Package (EX model)
$1,900 Premium Package (SX model)
$2,100 Techology Package on EX model – requires EX Premium Package (available only on automatic transmission!)
$1,900 Techology Package on SX model – requires SX Premium Package
$600 UVO package: available only on EX automatic transmission
Looking for more information and details over the 2015 Forte Koup pricing and packaging content?
Visit our supporting dealerships here at the Kia-World news blog and get full details!