We have featured a few different users over the past couple of months who own Kia cars, and who have made some cool upgrades to their Kia rides.
The latest in this series is 32-year old Chad Sellers from Sherman, Texas.
Chad has been into cars for as long as he can remember, with Mopar his choice until he saw and fell in love with the black Kia Forte Koup.
He picked up a used model with 38K miles already on her, but since the car was still in incredibly great shape, he knew he was getting a bargain, as well as a vehicle that he could cater to his own tastes.
It has been almost a year since Chad picked out his Forte Koup coupe and he has already put in a fair amount of work.
There are a couple of standout additions made that will certainly make the car noticeable when it takes to the road.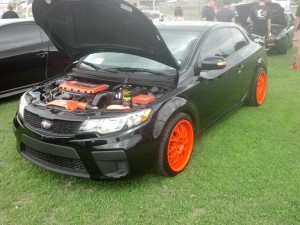 The coolest of these changes has to be the orange powder coating on the wheels.
It certainly gives the car a sporty style that sets it apart from anything else on the road in Sherman.
Read on to hear about some of the other great modifications that Chad has made in order to give his Forte Koup a look of its own.
1. Tell us something about your Kia car ownership experience?
I bought her used with 38k miles on her already but she was clean and I haven't had this much fun with any other car I have owned in the past. I would definitely buy another Kia.
2. What do other people say about your car? Mostly what is it?
Been called a Scion a few dozen times. Others just say nice car.
3. How long have you owned your ride? I bought her in October of 2012.
4. Honestly, what was your intention when you bought your Forte Koup 2-door?
Not sure I actually had one. I have always modded my cars some but I was really just looking for a good looking car that got decent mpg.
5. What do you like the most about your Kia ride?
The overall looks and ride is quite nice. But since I powder coated my wheels orange, I'll say they are what I love most about it.
6. What is it that makes your ride look unique?
Right now its my custom badges. Its a shark design that I drew myself then had a company make the badges.
Kia Koup Tuning Pics
7. What accessories have you installed so far / do you have any future plans?
Drag racing DR-19 wheels, TB Performance front tower strut, K bar, and rear strut bar. K&N typhoon intake, custom dual magna flow exhaust, Megan racing springs, Rvinyl carbon fiber dash kit, sick speed horns, in dash tablet/DVD/CD stereo system.
LEDglow underbody and interior kits in orange. Matte black/clear fuel door with orange gas cap.
Future modifications planned: Caron body kit(ordered) and quad retrofit headlights. Satin black full vinyl wrap
Forte Koup Specs
Engine: 2.0L 4-cylinder
Color: Ebony Black
Trim: EX
Model year: 2010
Tire size: 235/35/19s rear, 225/45/18s front
Average mpg: 37
Miles driven so far: 60k