The previous entries in our series of Kia owners interviews featured folks who pretty much knew what they wanted right from the start.
The same cannot be said for Gregory, a Ferris State University student from Manistee, Michigan.
Gregory found himself a little torn on what Kia car to buy, finding that the Rio was a little too small and missing the features he wanted, whereas the feature-filled Optima was on the wrong side of his budget.
Wedged in between those two and filling all the boxes on his checklist was a fully-loaded Kia Forte, which ended up being the car he opted for.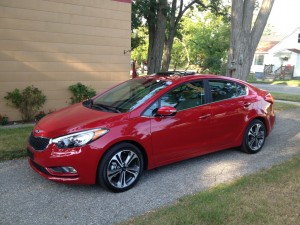 Gregory has nothing but good words for the Kia dealership he dealt with, as they really went above and beyond to find a Forte that had all the features and color schemes he wanted.
That has really paid off, as people are constantly commenting on how great the car looks.
He has a hard time pinpointing one single thing that he loves about the car, saying that he really likes the way it rides and the UVO infotainment system.
Pushed a little harder, though, Gregory admits that the ventilated seats might just be what he likes best.
It's good that he loves the car so much, especially as he drives about 300 miles per day, adding up to 7,500 total miles since he bought the Forte in August.
2014 Kia Forte EX ownership experience so far:
It started off a little bit rocky. I made the decision to buy a new car on August 23, and I thought the Rio was too small, and didn't have enough features.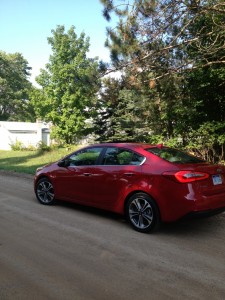 The Optima was too expensive, and I really liked the Forte. So, I knew I had to have a Forte, fully loaded.
The dealership didn't have the one I wanted, Red with a gray leather interior – so the dealer started searching for my car.
Unfortunately, the first one they found 300 miles away was damaged, and the next one they found, again 300 miles away, was sold just before a driver came to pick it up.
Finally they found my new Kia Forte EX, 375 miles away. I picked it up on August 29.
What do other people say about your new Kia? I get so many comments on this car!! I love watching people stare at it as I drive by. It really turns heads! People tell me they can't believe Kia makes such a beautiful car.
How long have you owned your 2014 Forte EX? I signed the paperwork August 28, and picked it up on August 29.
4. Honestly, what was your intention when you bought your Kia? I bought it to save gas, and to ensure I had reliable transportation.
I drive 275-300 miles every day, and my previous vehicles, two 2006 Kia Sedonas, had 225,000 and 250,000 miles, and were only getting about 20-22 MPG.
My fuel savings alone are making the payment on the Forte.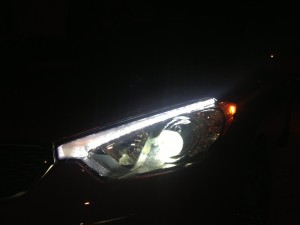 5.What do you like the most about your Crimson Red Kia Forte? I can't choose just one thing! I just love the way it drives and rides.
I love how well the UVO system works…but if I HAD to choose a favorite, I'd choose the cooled/ventilated seat.
That is possibly the greatest automotive invention since air conditioning.
6. What is it that makes your ride look unique? The color. The red really stands out. Plus, the fact that I'm the only one in my town with an EX Forte….so far anyway!
7. What accessories have you installed so far / do you have any future plans?
I have installed a few accessories. I got the all weather floormats and trunk liner, the rear bumper applique, and a Forte license plate frame. I've also ordered a custom "MR KIA" license plate.
Other than that, I don't have any major plans.
Forte EX Picture Gallery
2014 Kia Forte Specs, Info
Engine: 2.0L Nu I4 GDi
Model Year: 2014
Trim: EX
Color: Crimson Red Pearl
Tire size: P215/45R17 – 17″ rims
Average MPG: 35.8
Miles driven so far: 7,562