For the latest in our Kia owner interview series, we thought it would be a good idea to talk to someone with experience driving the Forte Koup.
Those of you who follow our blog will already know that this sporty model is going to be discontinued, and we want everyone to be aware of what they will be missing.
We turned to Julio, a native of Puerto Rico who now makes a living as a pipe welder in North Carolina.
As well as the Forte Koup, which Julio modified to look even better than the basic model, he also owns a Sportage, which he got after trading in his Kia Soul.
It's fair to say that this man is a big fan of what Kia has to offer.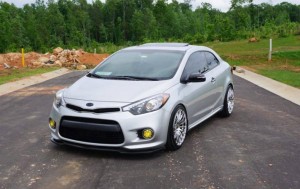 Julio picked up his Forte Koup in 2015, and has loved the two years that he has now owned it.
He enjoys the sporty styling of the vehicle, as well as the features which include leather seats, which can be heated and cooled, and the Bluetooth radio.
It was the 1.6-liter turbo engine in this model that first got Julio interested in the Forte Koup, but he was still pleasantly surprised at the power it generated.
He gets regular positive comments on just how great the vehicle looks.
Julio did some things to customize his ride, including lowering he vehicle and adding black chrome to the wheels.
He has also added a Forte Koup cold air intake, dual oil catch cans and carbon fiber Kia "K" emblem.
Read on to learn more about Julio's ownership experience.
Kia Forte Koup specs
engine: 1,6L turbo engine


color: silver

Model year: 2015

average mpg:28 mpg on highway

miles driven so far: 63,000

1.Tell us something about your Kia car ownership experience so far?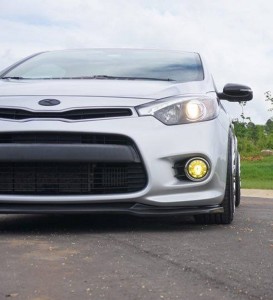 So Far my experience with the Kia Forte Koup is awesome, the car has the sport look , it's pretty fast and I really think the car had a lot of features for the price, leather, heat and cold on seats, Bluetooth Radio!! Got everything I want..
2.How long have you owned your ride?
I had my car since 2015
3. Honestly, what was your intention when you bought your Kia car?
When I first bought the car I just wanted to see how a turbo car feels!
4. What do you like the most about the car?
The power that little motor can produce.
5. What do other people say about your car?
Most of the people told me(nice ride), what kind of wheels are those? But pretty much everybody likes the car
6. What is it that makes your ride look unique?
I think the wheels and the way I lowered the car!! Most of the people use black, bronze, white and many other colors on wheels, And just went with Black Chrome! For me is a prefect combination with the color and the accessories in the car.
7. What Kia accessories have you installed so far / do you have any future plans?
Original Kia accessories I have is the K emblem on carbon fiber, other than that, I got cold air intake, dual oil catch cans, intercooler resonator delete.
And waiting on some more new parts.