The latest in our interview series with Kia owners takes us to Charleston, South Carolina, and an Air Force electrician named Philip Huston.
The car he purchased, before heading off to an airbase in South Korea for a year, was the Kia Forte Koup SX.
Philip said that he loved the warranties that came with the car, although he has yet to have to take advantage of any of them.
He also loves the sense of community that Kia owners seem to have, which included a big gathering of Forte owners in St. Augustine, Florida.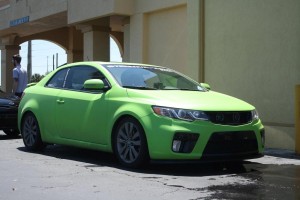 Philip has owned his Koup for almost three years now and is convinced that it will be Kia that he turns to for every future vehicle purchase.
He has received a lot of positive comments about his ride from friends, family, and even strangers, most of whom either compliment the design of the car or the way it rides and handles.
When he started looking for a new car, Philip said he wanted something that fit his style.
He liked the Mazda6 that he drove before the Kia Koup, but always felt that is was lacking a little something in terms of style.
Once he got a look at the Koup, which just happened to be the only one left on the lot, he was sold, and bought it without eve taking a test drive.
It has been a decision that he has never regretted, as he loves his Kia and its ability to turn heads
Kia Forte Koup SX specifications
Engine:  2.4L 4-cylinder
Color:  Electric Lime Green Matte
Trim:  SX
Model year:  2011
Tire size:  18/45/245
Average mpg:  24city/33hwy
Miles driven so far:  46,000
1. Tell us something about your Kia car ownership experience?
On thing for me about my Kia is the fact that I haven't had any problems where certain aspects of the warranties have been needed.
The best thing I love about my Forte ownership experience is the people that I get to meet.
There was a big Forte meet in St. Augustine, Florida not too long ago and all I can say is that I had the best time of my life with all of the people I finally met in person that I know really well online.
2. What do other people say about your car? 
Most people like the way it looks and are really impressed by that from Kia. If they don't mention the looks then it's the way it performs for handling and quickness.
3. How long have you owned your ride? 
I've had my Koup SX since July, 7th of 2011.
4. Honestly, what was your intention when you bought your Kia?
I was in the market for a new car that fit my style and personality. My 2009 Mazda6 was a great car, but I didn't feel like it actually "fit" me.
A co-worker had just gotten a 2011 Koup EX for a daily driver and I didn't really think about Kia until then.
Luckily for myself, the dealership in town had (my now Koup) one Koup on the lot left. I had only sat it in and turned it on. Never test drove it.
Traded in my Mazda without hesitation and haven't had any regrets since.
5. What do you like the most about your ride?
My favorite thing about my car is the ability to turn heads. It's an amazingly well designed car. The fact that I always look back at my car after I just got out of it even makes me realize how great of a choice I made for my ride.
6. What is it that makes your ride look unique? 
The custom Electric Lime Green plasti-dip that is on the exterior really turns people's heads. It's a unique color on a unique car and that's what makes it really stand out from all the others.
7. What accessories have you installed so far / do you have any future plans?
Mostly stock with a few exceptions
Installed is a Magnaflow 14" muffler
Megan Racing downpipe+testpipe
Megan Racing lowering springs with one coil cut on all four
SCF front and rear motor mounts
'07 STI lip
Spectre intake
Sickspeed chromium horns
Smithclub V2 headlights with 6000k HID low beams
2500k HID fog lights
broken "K" badge on the trunk
Electric Lime Green full exterior plasti-dip
matte black plasti-dip interior
Pioneer AVH-3500BTH head unit
two Rockford Fosgate P3D410 subwoofers connected to a Rockford Fosgate T600-2 amp
four Rockford Fosgate P-1652S component speakers connected to a Rockford Fosgate T400-4 amp
35% tint all around
stage 2 LED interior lights
LED turn signal lights in the rear
lots of stickers
Plenty of future plans include aftermarket wheels and a custom box for my subwoofers.