For the latest in our interviews with Kia owners we turn to Angel Lopez, a 23-year old who both works and studies on a full-time basis.
That said he is still able to find time to engage in automotive photography as well as automobile modification, which is something that has interested him since an early age.
Much of that modding experience has been use to add a unique look to the Kia Forte 5 that he has owned for almost 3 years.
While he took a little ribbing from friends when he first invested in his new Kia, those laughs have turned to wows as his friends see his modifications and how well the car performs.
Read on to see the work that Angel has done on hos car, and what his feelings are about the Kia brand:
1. Tell us something about your Kia car ownership experience?
My experience has been good. Of course in the modding scene you always have people saying "Oh, it's still a Kia…" but otherwise I do get a bit of attention.
2. What do other people say about your car?
Most people can't believe that it's a Kia, to be honest lol. I do get compliments about how unique looking my Forte 5-door hatch is though.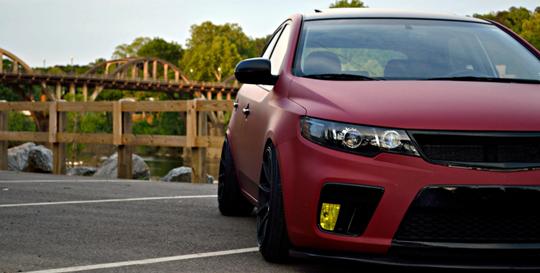 3. How long have you owned your ride?
I've had my car for approximately 2 and half years.
4. Honestly, what was your intention when you bought your Kia Forte 5?
To be honest, I'm not sure. I actually went in to buy a Forte sedan, but saw the 5-door hatch and just thought about all the possibilities. I've always wanted a hatchback.
5. What do you like the most about your ride?
I'd have to say my front end: Forte Koup bumper swap, retrofit quad projector head lights, and my c-mod grill.
6. What is it that makes your ride look unique?
The most unique thing about my ride is the Koup bumper swap and the stance. I will say this, I was the first hatch in the US, perhaps even the world, to do a Koup bumper swap.
Related Kia news articles:
7. What accessories have you installed so far / do you have any future plans?

Exterior:
Koup Bumper
C-mod grille
Quad Projectors
3 sets of HID: 5000k low beam, 3000K high beam, and 3000k fogs
Subaru STI front lip
Matte Metallic Garnet Red Vinyl Wrap
Satin Black Roof, Mirrors, and Handle vinyl wrap
Smoked tail lights
K Badge
Suspension:
Megan Racing Street Series Coilovers
XXR 527 18×8.75 et20 wrapped in 205/40/18
SPC Camber shims to camber rear
In Car Entertainment:
Clarion NX501 Satnav
Pioneer TS-D1720C components
2x Digital Designs 1508 subs
Cadence TXA-3004
Audiopipe APSM1500
KnuKonceptz Wiring
Kia Forte 5 Info & Specs
Engine: 2.0L 4.cylinder
Color: Silver… But she's now wrapped Garnet Red
Trim Level: EX
Model Year: 2011
Tire Size: 205/40/18
Average MPG: No Idea lol
Miles driven so far: 32,000