We hope you enjoy our series of interviews focusing on Kia owners across the United States.
Our latest one takes us north of the border to Canada where we talk to proud Kia owner Bailey Norrie.
Bailey takes some time to tell us about her second Kia purchase, the 2-door Kia Forte Koup. This is over and above the Spectra 5 SX that she still owns.
She also takes time to talk about her initial reluctance of shopping for a Kia in the first place, and what it was that finally swayed her into buying not just one, but two.
Read on to discover the modifications that Bailey has made to her Kia Forte Koup, and what it is she loves about her vehicle.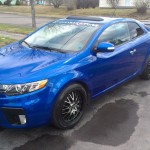 1. Tell us something about your Kia car ownership experience?
This is actually my 2nd Kia. I also own a 2005 spectra 5 SX. That car never let me down and I still have it. It was a very tough, peppy, Stylish hatch.
So it was an no brainer when I had the opportunity to purchase the Forte Koup, I was already a fan of the brand.
2. What do other people say about your car?
"What kind of car is it?" Literally almost every day somebody asks. I have even had a soul driver not know it was a Kia.
3. How long have you owned your ride?
I purchased the car used Nov. 2011 from a Hyundai dealership. But I have to give a shout out to the staff at the Kia corner in Moncton N.B for giving me great service and warranty coverage.
4. Honestly, what was your intention when you bought your Kia?
I am going to be honest here, I was VERY reluctant to even look at a Kia. But after spotting the Spectra5 and a test drive I realized Kia does have the power to surprise.
The ironic part about the koup is that I was car shopping for a friend ( I had recently done some work to the Spectra 5) and it was literally love at first sites, that corsa blue was eye catching from across the parking lot.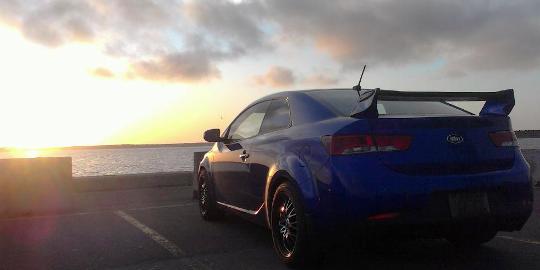 5. What do you like the most about your ride?
I love the simple aggressive design of the Forte Koup. Even when I bought it stock I instantly realized it was a head turner. Even I can't walk away with out looking back.
6. What is it that makes your ride look unique?
It only took a week for the mod bug to bite. And with seven years of being with a backyard gearhead I was ready to DIY everything I could.
I even did the body work to my spoiler when I received it in poor shape. The gratification from that is priceless.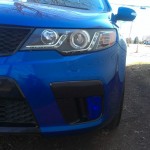 7. What accessories have you installed so far / do you have any future plans?
I currently have installed : K&N typhoon intake, RRM light weight pulley,TB performance strut bar, Konig Lace rims, 1st gen. Smithclub headlights with 5k HID low beams, 2×10′ mtx thunder subs with infinity amp and lc2i, sequence gt spoiler, rebadged crown emblems, some vinyl here and there,an being installed soon dimpled & slotted rotors.
My current plans are: switchbacks, exhaust, an tune.
However; as soon as my Spectra5 gets on the road, I can really start getting my hands dirty with the Koup. So much potential, that I see big things in the future 😉
Engine: 2.4L four-cylinder Theta ll
Color: Corsa Blue
Trim: SX with luxury edition accessories
Model Year: 2010
Mileage: bought with 41000kms now 90000kms
Find latest news about the 2014 Forte Koup here.