A very proud Forte EX owner speaks about his Kia ownership experience.
Before you dive into the interview, read a couple of introduction words about the owner:
My name is Robert Quinones, I am 30yrs old, and I've always been a car guy growing up.
When I was little my grandpa was a paint and body man and always had cars he was working on in his garage from your regular everyday cars to his friend's drag ready bel air.
It's always been a part of my life. In high school I got more into the import scene the "fast and the furious" days with the body kits and big wings (man we have come a long way) and have been stuck liking imports since.
Kia  Forte Owner Interview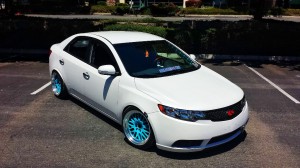 1. Tell us something about your Kia car ownership experience?
So far everything has been awesome about the car. I really started to see KIA stepping up their game when it came to styling and overall quality of their cars and has been true while owning my ride.
2. What do other people say about your Kia Forte?
I love getting the "what kind of car is this" and the look on their face when I say it's a KIA.
I've taken it out to a couple of shows and local meets and has been a talking point for a while with most people amazed that it looks as good as it does.

3. How long have you owned your car?
I've had it for little over a year.
4. Honestly, what was your intention when you bought your Kia?
Well rewinding back to 2010 around October both my wife and I got our KIAs.
We got her a 2011 Kia Sorento and I got a Kia Soul.
I went with the Soul cause I needed a commuter since I drive about 100 miles a day for work and I liked the funky look it had.
I also had the intensions to mod it as well. So time went by wasn't getting the gas mileage I was expecting and the aftermarket options just weren't there so I decided to trade it in for my 2012 Forte.
The Forte's gas mileage was better due to the new 6 speed tranny and the aftermarket options were a lot better.
Trust me I coulda went with Honda or Toyota or something I guess more "mainstream" to the import car scene but I've always liked to be different.
5. What do you like the most about your ride?
I'd have to say the paint job is one of my favorite things. I really like the pearl white this thing has and I get asked all the time if that is a factory job.
It just looks so nice after a wash and wax when the sun hits it the color really POPS. Then with the color choice on the rims makes me look back every time I walk away from it.
6. What is it that makes your Kia Forte sedan look unique?
I'd have to say the color choice of the rims and my interior. I see a lot of teal wheels but not very many turquoise.
And just the fact that it's a modded KIA in a sea of Hondas, Toyotas, and Nissans.
Forte EX Photo Gallery
7. What accessories have you installed so far / do you have any future plans?
Exterior:
Megan coilovers
XXR 531 17×9 +25et
215_40 tires (stretched but not crazy)
Chrome door handle covers
K badges
Sickspeed bumper quick release
Under the hood:
Injen short ram intake
Sickspeed fender washer kit
Interior:
Avenue Performance wood grain steering wheel
NRG quick release
BOSS hub
Bubble shift knob
DIY V.I.P. table
DIY plaid wrapped pillars and arm rest
OEM aluminum pedals
Dashboard Jesus
Future plans:
Exhaust
Black vinyl wrap roof
OEM lip kit
Car Model & Specs: Kia Forte 4-door sedan
Engine:2.0L 4-cylinder
Color: Snow White Pearl
Trim: EX
Model year:2012
Tire size: 215_40
Average mpg: 35
Miles driven so far: 45000