It's time for another in our series that features Kia car owners and the cars they have grown to love.
For this piece we spoke to Jeff Smith, a family man who has had a love of vehicles since his childhood, thanks in large part to his Dad.
Jeff has owned a multitude of vehicles over the years, but his Kia Forte 5-door hatchback is one that holds a particularly special place in his heart, since it was the first car he purchased with his wife.
The decision they made was based on a number of factors, with safety and interior space high on their list.
Jeff and his family found that in the Forte, but that doesn't mean that he was content to let the car stand as is.
If you want to know about some of the modifications that Jeff has installed to make the car a little more unique, then read on for all the details.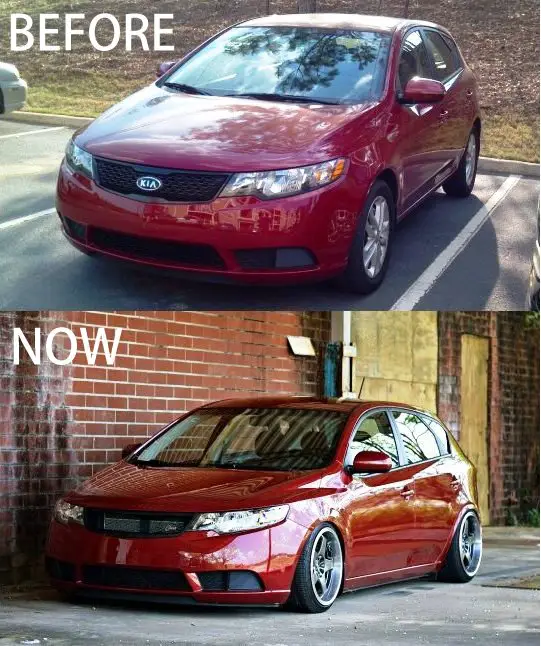 Kia Forte 5 Owner Interview
1. Tell us something about your Kia car ownership experience?
My wife and I bought our Kia on my birthday almost 2 years ago and it was our first new car together. We've both had nothing but good things to say about it so far.
2. What do other people say about your Kia Forte 5-door?
People always ask what kind of car it is and usually second guess me when I answer. It's pretty funny I guess.
3. Honestly, what was your intention when you bought your Kia?
When we bought the car we were just looking for something reliable, safe for our kids, good on fuel, and with good leg room.
I have a hard time comfortably driving smaller cars being that I'm 6'4″. Surprisingly this car has excellent leg room for me.
I actually didn't like the color when I first got it,  but it was the only one with black interior on the lot.
It's definitely grown on me though. I wouldn't want it any other color now.
4. What do you like the most about your Forte 5?
The thing that I most enjoy about our car is just the overall look.  I'm not big into flashy or gaudy cars and bolt-ons. I like simple and clean mods. Less is more.
6. What is it that makes your car look unique?
Obviously what makes my car unique is it's stance and how low it is.
There are only two Forte 5s in the world that I know of that are stanced. I think that's pretty unique.
As I said before,  less is more,  so my parts list is short.
I've installed Megan Racing Street Series Coilovers, a C-Mod grille, rear camber shims, and XXR 926 17×9 et35 wheels.
Future mods will be air ride and a nice set of wheels.
Pictures Of The Kia Forte 5
Kia Forte 5-Door Hatchback Specs
Engine / Gearbox: 2.0L / 6 speed auto
Color: Spicy Red
Trim: EX
Year: 2012
Tire Size: 205/40/17
MPG: no idea, but decent.
Odometer: 24,000
P.S. Special thanks to Angel Lopez at A.L. Photography for the amazing pictures.