Today we travel to Clearwater, FL to hear another story about a new Kia Forte LX owner who has had a great experience with his vehicle.
Chris is a technical writer who is now on his second Kia, opting to go for a 2014 Kia Forte this time around.
He considers the decision to stick with Kia as a no-brainer, as he owned his previous model for two years without running into any kind of issue.
This is an owner that likes a car with speed, rating the Pagani Zonda as his dream car.
For now, he is more than happy to settle for the Steel Blue Kia Forte, which he believes is a great looking vehicle, even without any modifications made to it.
Chris has only had the car for a couple of months, but has already received all kinds of comments on how great it looks.
One of the biggest compliments he gets is on the interior, with most people refusing to believe that a car that looks that good would only fall in the mid-range of the Kia lineup.
New Kia Forte Purchase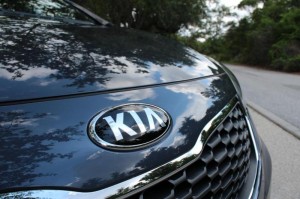 The new Forte LX purchase almost came about by accident, as his real reason for visiting the dealership was to lower the rate on his Rio.
When he saw what he could get by trading in for the Forte compact car, the decision was pretty much made for him.
He loves the unique design of the Forte, as well as the 6-speed transmission which he describes as incredibly smooth.
He also has some aftermarket modification plans for the future, so be sure to read on to see what those are.
Tell us something about your Kia car ownership experience?
This is my second Kia, and I have been very happy so far. My last KiaI had for 2 years and didn't run into a single issue. I've owned this Forte LX for 2 months, but so far so good.
What do other people say about your new Forte LX?
Other people seem to really like the car. For being stock, I catch people eying it up while at intersections. For the few who have ridden in the car, they are surprised with how nice the interior is for being a mid range model in Kia's lineup.
How long have you owned your ride?
I have owned my 2014 Forte since June.
Honestly, what was your intention when you bought your Kia?
Honestly, I went into the dealership looking for a lower rate on my Rio. They saw that I kept it in great shape and decided to trade me my Rio for the Forte. Couldn't pass that deal up.
What do you like the most about your new Forte sedan?
My favorite thing about my ride is the uniqueness. I haven't seen another one in this area yet, so it gives the impression you have a one off ride. I also like the 6 speed transmission–very smooth shifting a decent acceleration.
What is it that makes your car look unique?
I think the headlight assembly with the tiger nose makes it unique. I really like the front end on this car, which helps it stand out in a crowd.
Have you installed any aftermarket accessories already / having future plans?
All stock right now, but that is going to change. Some mods for the future are tint, stereo upgrade, exhaust, wheels, slightly lowered, intake, HIDs, and an experimental engine swap when I have a second car with a warranty.
Photos Of The New Forte 2014 (MY)
2014 Forte LX Engine Specs & Info
Engine: 1.8L 4-cylinder
Exterior Color: Steel Blue
Trim: LX
Model year: 2014
tire size: 16 x 6.5
average mpg: 32.5
miles driven so far: 2,700
Related Kia Owner Interivews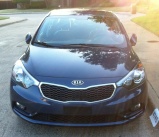 What do other people think of the 2014 Forte sedan? Here we have another Kia Forte owner interview with some great pictures of the Forte EX sedan.