Kia has made some real waves in the US, thanks in large part to introduction of really stylish and high quality vehicles.
While the Korean car company is doing well across the entire country, we thought it might be a nice idea to continue the Saturday's Kia owner interview series.
Today, we are hosting a Georgia Kia owner. That would be Steven Massey from Cartersville, GA., who is currently the proud owner of a 2012 Forte Koup.
Steven is a busy man and needs a dependable car to get him to and from the pair of jobs that he has, as well as to school and back, as he is also a full-time student.
Steven decided to go with the Kia Forte Koup a little over a year ago, and so far has been very happy with the purchase decision he made.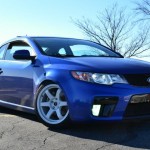 Kia struggled for a while to improve its brand, which may be why some of Stevens friends were less than complimentary about his choice of auto. He does say, though, they once they see it, they all comment about how great it looks.
While the car already looks great on its own, Steven had made some additions to give it more of a personal feel that better suits his sporty style.
Steven complimented the unique blue color of his 2012 Kia Forte Koup with white alloy wheels, whilst also adding new HID headlights, K badges, Rockford fosgate tweeters, and more.
Read on to hear more about Steven and his 2012 Kia Forte Koup.
1. Tell us something about your Kia Forte Koup ownership experience?
My owner experience has been good so far. Not many complaints except for cheap interior material. The leather to be exact.
2. What do other people say about your ride?
I've been told my car is badass and looks sick. But my friends always joke around and say its stills kia. Haha but they say they still love it.
3. How long have you owned your ride?
I've owned this car for a little over a year.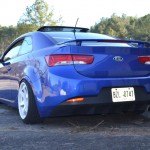 4. Honestly, what was your intention when you bought your Kia?
I bought this car to daily to work and school and fix up my other car that I wrecked. They are both projects now. Lol mainly got this because of the warranty though.
5. What do you like the most about your Forte?
The thing I love most about this car is the color. And you don't see many of these with mods.
6. What is it that makes your car look unique?
I think the white wheels make my car stand out with the blue. It's unique because I made it for me and not anyone else.
7. What accessories have you installed so far & do you have any future plans?
So far it has Megan racing coilovers, 17×9 +20 white rota grids, Korean sedan headlights, 6000k hids in the headlights and fogs, ez lip front lip, k badges, Rockford fosgate tweeters, and infinty 6.5's, c-mod grill that's in paint so won't be on for a few days.
Future plans are doin some body work and gettin everything cleaned up, koup r spoiler, roof spoiler, eye lids, kinetic racing cat back, intake, and just simple stuff. Nothing crazy.

2012 Kia Forte Koup Specs
Engine & Transmission: 2.4L four cyl., 6-speed manual
Color: Blue
Trim: SX
Model Year: 2012
Tires & Wheels: 215/40/17, 17×9 +20
Fuel economy: 28-30mpg
Miles driven so far: 26k miles