Early prototype of the 2022 Genesis GV60 spied testing in the wild.
With each passing year, more and more all-electric vehicles (EV's) and hybrids make it to the market.
Kia and Hyundai are one of the leaders in this endeavor, with no less than four great EV models – Soul, Niro, Kona, and Ioniq – now available.
Each of those models have been routinely praised for their highly-efficient drivetrain, as well as their driving range, which is among the longest in the industry.
In fact, both Hyundai and Kia are leading the way when it comes to all-electric driving range in their models. The only company they are trailing in that regard is Tesla, which is no real surprise given that Tesla have set the bar.
While Hyundai and Kia are well represented in the EV segment, the same cannot be said for Genesis, Hyundai's luxury brand, as they have yet to enter the EV market.
With the Essentia sports coupe and the Mint mini car, Genesis has delivered a pair of EV concepts, both of which serve as a sure sign that an EV model will be coming from them sooner rather than later.
Concept models are great, but what about a production ready EV model from Genesis? We have proof that just such a model is on the horizon.
Rumor has it that Genesis have two electric vehicles in the works; a 4-door sedan and a midsize crossover. The EV sedan remains a bit of a mystery for now, but the midsize crossover was recently spotted being tested in a real world environment.
Spy pictures of future Genesis electric SUV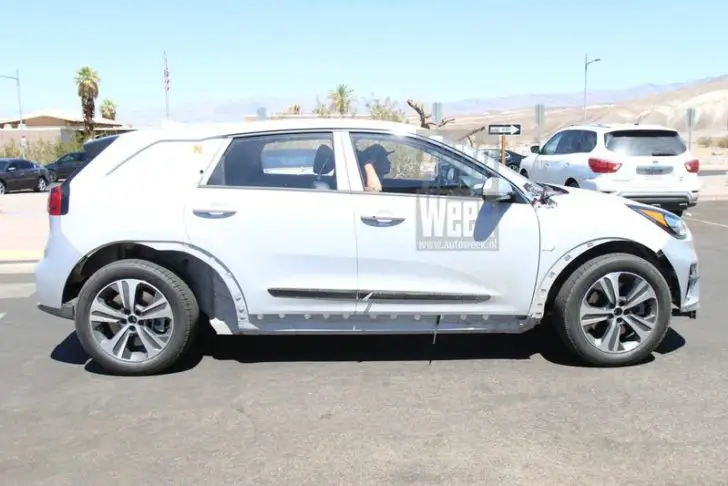 One thing that really jumps out when looking at the spy pics of the Genesis EV crossover vehicle is the body shape of the prototype.
Before we get into that a little more, it is worth remembering that this model is very much still in the early development stages, so what you see now may not be exactly what you get when production begins.
Genesis EV prototype wearing Kia Niro "clothes"
The spy pics of the upcoming Genesis EV show a vehicle that uses the same body and sheet metal of the current version of the Kia Niro EV.
One thing that is a little different can be found at the rear of the vehicle, where adjustments have been made to the body to allow it to fit over the platform of the future Genesis crossover EV.
What this tells us is that the new Genesis model will be a midsize SUV, one size larger than the Niro. We also expect it to be wider, and to perhaps even offer seating for 7.
2022 Genesis GV60 release date
Now that we are done with the speculating, we can get to what we know for sure.
The Genesis electric SUV will ride on a new E-GMP platform that Hyundai officially unveiled a couple of months ago. We also know that it will offer AWD, and that the driving range on a single charge will be around 320 – 350 miles.
There is no word from Genesis yet on an official release date, but our best guess is that we should see a production model of the Genesis GV60 electric crossover in showrooms prior to the end of 2021.
Until that day arrives, let's sit back and enjoy the spy pics of the Genesis EV prototype with the Niro EV body. These snaps were captured by the good folks at Autoweek.nl. Head over to their website if you want to see more.