Comparing Kia Sorento vs Hyundai Santa Fe – which is better?
Crossover vehicles and SUV's are meant to be functional vehicles, but that doesn't mean that style should be ignored.
The Hyundai Santa Fe and the Kia Sorento both kill it in the looks and performance departments, which is why they are in such high demand.
We thought it might be a good idea to show you all exactly what you get with the 2017 versions of these great crossovers.
Before we get started, we should make it clear that while Hyundai SantaFe and Kia Sorento are produced by sister companies, they do in fact boast major styling differences.
They may share platforms, technology, and engineering, but they each have a definite style that helps set them apart from one another.
It is those subtle differences that might help you decide which one is best for you.
Kia, Hyundai SUV seating configurations
If you are looking for the biggest differences between the 2017 versions of the Santa Fe and the Sorento, it would be in the seating configuration department.
There are 5- and 7- seat versions of the 2017 Kia Sorento, while the 2017 Hyundai Santa Fe comes in 6- and 7- seat configurations.
If you don't need that many seats, you might also consider the 2017 Santa Fe Sport, which is a 5-seater.
2017 Kia Sorento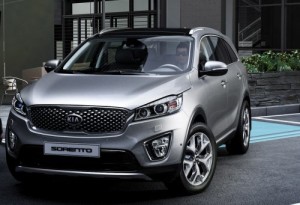 The base engine that powers the very nice looking 2017 Kia Sorento is a 2,4L 4-cylinder unit that generates 191 horsepower.
You also have a 2,0L turbocharged engine available in the Sorento SUV.
However, if we are really doing a side by side comparison with the Santa Fe, then we would suggest opting for the 3.3L V6 with the 6-speed automatic, generating 290 horsepower.
This baby accelerates very nicely with this engine in place, and it too can tow up to 5,000 pounds.
Front wheel drive is standard, while some higher grade models come available with AWD.
The interior of the Sorento is a definite winner, and the ride is extremely comfortable.
The crossover handles nicely, and with the Sorento backed by the best warranty in the business, it's a model that's hard to beat.
2017 Hyundai Santa Fe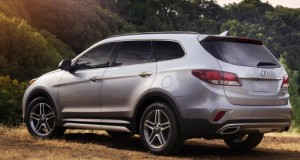 The exterior design of the Santa Fe is incredibly athletic, making it an excellent choice in the midsize crossover segment.
Under the hood, you'll find the 3.3-liter V6 mated to a 6-speed automatic transmission, generating 290 horsepower.
This vehicle has some power, and can tow as much as 5,000 pounds.
The 2017 Hyundai Santa Fe is an excellent value proposition, and while it isn't particularly sporty, it comes with a suspension that delivers a nice combination of comfort and handling.
It comes standard with FWD, but there is an AWD option available.
2017 Sorento or 2017 Santa Fe – which one is the winner
Rather than picking a winner, it's safer to say that you can't lose with either option.
Safety features, quality and fuel efficiency are almost identical, and both come with an amazing warranty that makes each one an excellent value proposition.
It's certainly a close call, and one that will come down to a personal choice, although we would suggest that the interior of the 2017 Kia Sorento is just a touch nicer than the Santa Fe SUV.
That said, the Hyundai Santa Fe wins in the space department, as it delivers more room for passengers and cargo. We suggest giving them both a look and deciding for yourself.