Does the 2022 Kia K5 come available with large panoramic sunroof?
If you are a fan of the great outdoors, but have to spend a lot of time in your car, the Kia K5 with panoramic sunroof may well be the solution.
It really is the next best thing to driving a convertible, as you get plenty of natural light and cool air flooding in without having to fiddle with a foldaway roof.
As far as midsize sedans go, the all-new Kia K5 sedan has proven to be among the best on the market, and the current version has a number of design and feature upgrades that make it a better value proposition than ever before.
Photo of the 2022 Kia K5 panoramic sunroof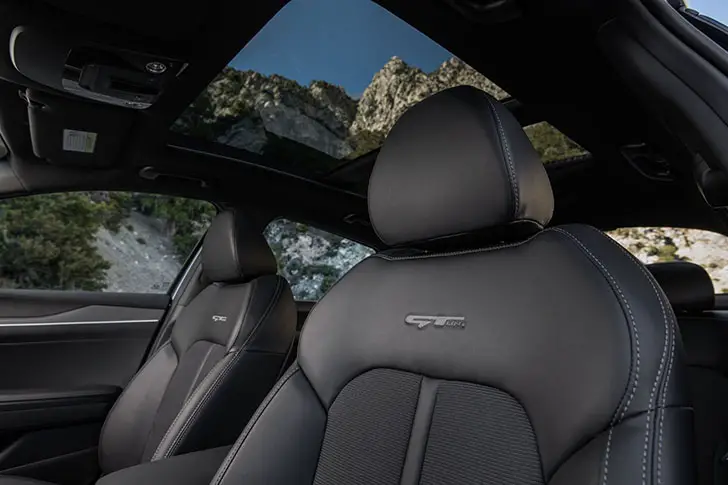 If you have never seen a Kia vehicle with a panoramic sunroof, we suggest that you take a look at the image here, as it shows you just how big the Kia K5 sunroof actually is.
It goes well beyond what you get with a traditional sunroof, and with the power shade option, you also get a great feature that helps block out some of the sun when it gets a little too bright.
2022 Kia K5 sunroof availability
| | | |
| --- | --- | --- |
| Kia K5 | Sunroof | |
| LX | / | |
| LXS | / | |
| GT-Line | Optional | |
| EX | Standard | |
| GT | Standard | |
If you are interested in getting your hands on the 2022 Kia K5, and you want one with the panoramic sunroof included, you are going to have to pay attention to the trim levels.
The only models that come standard with the large panorama sunroof are the range-topping Kia K5 GT and EX.
You can also get the panoramic sunroof as an option on the GT-Line trim level, however, Kia requires you to upgrade to either a GT-Line Premium Package or GT-Line AWD Premium Package.
The base Kia K5 LX and LXS don't offer the sunroof!
Any sunroof problems?
There are no major problems or issues with the Kia K5 sunroof to report. If you know of any, please let us know, so we can update this Kia news article.