Kia are set to introduce the Niro hybrid crossover next fall, and they believe that the SUV-style vehicle can be a serious competitor to the Toyota Prius.
This is the next step in Kia's plan to increase its number of electrified vehicles to 11 by 2020.
As far as size goes, the Niro will slot between the Soul and the Sportage, and will be marketed as a Hybrid Utility Vehicle (HUV) to make it stand out as a more unique offering than an SUV.
In describing the vehicle, Kia say that is has the practicality of the Nissan Qashqai and the performance of the Prius.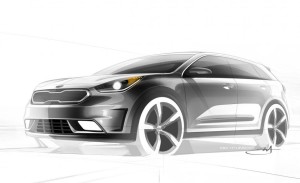 Kia hopes to outdo both of those vehicles from a design standpoint, as they plan on going with a look that is more modern than conservative.
The style is reminiscent of the Sportage CUV, but the Niro will ride on the same custom platform that Hyundai will be using for their hybrid and plug-in hybrid models moving forward.
In order to create a low center of gravity and more stability, the Niro design features a wider stance. It also has a pretty long wheelbase, and has a reduced front and rear overhang to give the vehicle a more dynamic look. This also helps add more space to the interior.
The upcoming Kia Niro will come as a hybrid only model, and will be powered by a 1.6-liter Kappa petrol engine mated to a 32kW electric motor, all of which will produce 104 bhp and 108 lb.-ft. of torque.
The set-up also includes a 6-speed DCT transmission that makes use of a 1.56kWh lithium polymer battery.
It is Kia's goal to get emissions below 90 grams per kilometer.
Kia has also said that a plug-in version of the hybrid will be offered at a later date. Initially, the vehicle will launch as a front-wheel drive, but AWD could be delivered as an option at a later date.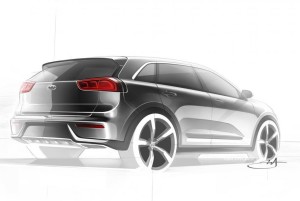 The Niro electric-hybrid will be made at Kia's Hwasung plant in SOuth Korea starting in the fall, and will arrive in the US in 2017.
It should be noted that while the Kia Niro hybrid shares its name with a concept model shown off in Frankfurt a couple of years ago, it is not in any way related to that small SUV.
That particular vehicle will be heading to production as a Nissan Juke rival, but it will be released in 2017 under a whole new nameplate.