7 things we've learned about the Kia Niro hybrid during the Korean-market launching event.
The new Niro hybrid crossover has been officially unveiled in Korea at a rather formal launching event in Gawngjin-gu.
A pair of different vehicles were there for the event, and we got to learn a whole lot more than we previously knew about the Korean-specs Kia Niro hybrid crossover.
Here are the 7 most important facts we now know.
1. Projected sales figures of Kia Niro
Kia are looking to sell about 40,000 units of the Niro this year, with 18,000 units projected for South Korea, and the remaining number being sold on the global market. Those projection numbers are expected to climb next year.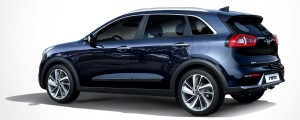 2. Pricing: how much is a Kia Niro In Korea?
As previously reported, the Korean-market Kia Niro will come with 3 different trim levels, with prices ranging from 24,330,000 million won all the way up to 28,450,000 million won.
Consumers will be able to take advantage of an eco-friendly vehicle grant from the government that will see the pricing drop to between 22.335 million won and 26.55 million won, which equates to $19,300 an $24,000, respectively.
3. Fuel economy figures of Kia Niro
If there was one thing that everyone following the Niro story were waiting to hear, it was what we could expect in regards fuel economy. The news is good, as the Niro hybrid will have the best fuel economy of any SUV in South Korea.
The numbers come in at 20.1 km/l city, 18.7 km/l highway, and 19.5 km/l combined. Those are the stats you can expect when driving the Niro that has 16-inch alloys.
Things are a little different when the Niro is equipped with 18-inch alloys, with efficiency ratings set at 17.7/16.4/17.1 km/l city/highway/combined.
Previous reports stated that the US version of the Niro would likely achieve 50 mpg, but it seems that the Korean numbers are a little lower than that, so we will have to wait and see.
4. Exterior color options
The Korean version of the Niro hybrid will come in 6 different exterior colors, as well as 2 different interior options. It is expected that there will be more color options made available for the European and North American version of the vehicle.
5. Segment-leading car warranty
As you would expect from Kia, the warranty is great. You get a lifetime warranty on the battery, as well as a 10-year or 200,000 km motor warranty.
6. Kia Niro safety & protection
Safety has also been well addressed with the Niro CUV. All of the latest safety features will be added, including 7 standard airbags, which includes the first knee airbag in this segment.
7. Cars like Kia Niro (rivals)
The new Kia Niro hybrid is really the first vehicle of this kind in South Korea, but that doesn't mean it won't have any competition. You can expect the likes of the SsanYong Tivoli, Renault Samsung QM3, and GM Korea Chevrolet Trax to all be competing for the same customers.