Technology has changed the way in which we do everything, which includes the methods we use for shopping.
You can literally buy anything you need today, and all without ever setting foot outside your front door.
The one thing that you can't have delivered to your house are cars, but even that may be changing!
Kia have put themselves in the forefront of at-home vehicle purchasing, and they are getting started with the new Niro hybrid, thanks in large part to a partnership with Amazon Alexa.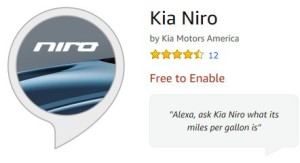 New Kia Niro has made a major splash in the hybrid crossover market, and when you consider its versatility, creative cargo space, and outstanding fuel efficiency, you might even say that is has revolutionized the auto industry.
The Niro comes with 54.5 cubic feet of cargo, fuel efficiency of 50 MPG (gas + electric) in its base model, as well as a combined 40 MPG in all its other trim levels.
There is a lot more to know about this hybrid crossover, but how do you do it?
Well, you could do some online research, or perhaps even call or visit your local Kia dealership.
Those are the old methods of vehicle information gathering, but with the Niro hybrid, as well as, we assume, the upcoming Kia Niro PHEV, you can get the answers you seek via Amazon Alexa.
Kia Niro Skill App & Alexa
Next up we are going to talk a little more about Amazon Alexa and how it works with the Kia Niro Skill feature. We think you will be pleasantly surprised by all that these two can do when they work together.
You can use voice commands to get the Alexa virtual assistant to perform all sorts of different tasks, such as turning off your connected TV or playing your favorite song through a compatible device like the Amazon Echo.
The new Kia Niro Skill app allows owners of the Alexa to instantly receive information on the vehicle, as well as being able to find out if it is in stock at a local dealership.
Questions to ask Alexa about the Kia Niro
This great new use of technology once again proves that Kia is tops when it comes to innovation. If you are interested about technology as it pertains to Kia vehicles, search out more articles on the subject on our blog pages.