The crossover segment is one of the most popular in the United States, and the addition of the Niro is one that hybrid enthusiasts are sure to love!
One issue, albeit a good one, that US consumers may have is deciding which Kia Niro trim level to buy.
There are several different options available, with each one offering something a little bit different than the others. One trim level that really stands out, though, is the Touring Launch Edition.
In this blog post, we are going to talk more about this particular trim level and the amazing features that it delivers.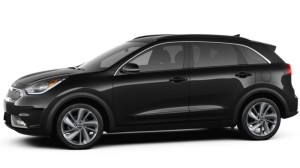 As you may have already guessed, the Launch Edition is a limited production model from Kia, so you are going to need to get in quick if you want one!
We are not even sure how many units of the Kia Niro Touring Launch Edition the carmaker intends on shipping to the US, or when production will stop, so keep that in mind if you do decide that you want one.
Kia Niro Touring Launch Edition style

There are some definite design characteristics that set this model apart from the other members of the Niro hybrid car family.
The Niro is a rather sporty looking crossover vehicle already, but the upgrades made to the Launch Edition take that look up a notch.
One of the first noticeable changes is the use of 18-inch Hyper Gray alloy-wheels shod in Michelin tires.
Around front, a metallic grille replaces the black grille usually found on other models.
There are also two exterior colors thats are being used exclusively for the Niro Launch Edition. Those are the Snow White Pearl and Aurora Black paint shades.
Features of the Touring Launch Edition
On the inside, the new Kia Niro Touring Launch Edition is equipped with the latest infotainment technology, which could be a huge selling point for the automaker.
Music lovers will certainly get a kick out of the standard 8-speaker Harman Kardon sound system that delivers exceptional sound clarity via the premium Clari-Fi technology.
Also included is an 8-inch touchscreen that features a high quality navigation system, as well as a 10-way adjustable driver's seat to keep you comfortable.
These are some premium touches that will make you want to take some longer road trips in the future.
How much does the Kia Niro Launch Edition cost?

As great as all of this sounds, we are sure that it is the price that is going to decide whether you will go after this special edition model.
The great news is that the Kia Niro Launch Edition MSRP costs just $28,000. This is about $5,000 more than the base model, but still about $2,000 less than the fully-loaded model.
Worth buying, but make it quick
At the end of the day, you are getting a unique hybrid crossover vehicle that is jam-packed with extra features, and which boasts an exterior design that is a little more on the sporty side.
If you are already looking at the Kia Niro hybrid SUV and have some extra money to spend, we suggest going with this limited Launch Edition model!